Finding new leads for your business, or finding email addresses for your link building outreach efforts can be pretty time-consuming.
In fact, on one of my first sites, I did link building outreach for months completely manually. I'd browse for blogs I wanted to get in touch with, check their contact page, and then adapt an email template to their business.
Yup, it was as painful as it sounds, and I wouldn't wish it on any business owners.
But then I discovered Hunter.io, and my entire process changed.
In our Hunter.io review, we'll take a look at how that happened, and why Hunter might be the right choice for your business as well.
PROS
Good tool to find email addresses by domain research and contact information
Helpful Chrome extension
Ease of use
Decent pricing
CONS
There are cheaper options out there
No social media research tool
Hunter.io review In Short
Hunter.io is a lead generation and email outreach plugin, designed to help you optimize outreach processes for your business.
For starters, Hunter has a beautiful, easy to navigate interface: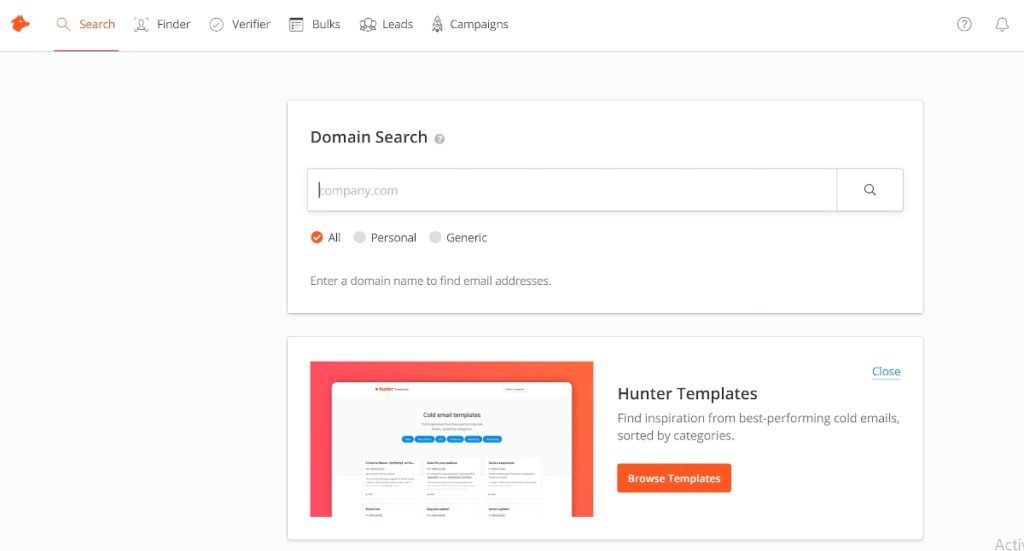 But it also stands out with a variety of other features, including:
An email verification tool
Bulk email management
Lead management
Campaign optimizer
Free cold email templates
All in all, you'll find that Hunter.io does its job pretty well. On top, you don't have to take our word for it.
While we'll cover everything the tool can do in this Hunter.io review, you can give it a try for free, with up to 50 email searches available to anyone after a simple sign-up.
Hunter's pricing can be a bit too much for some businesses, but its great quality service and support justify the price.
There are other similar plugins out there, like Snov.io, but if you're interested in reviews for those, read our Hunter.io alternatives article.
With that being said, let's get into our extended review.
Interface And Navigation
Hunter.io stays true to a minimalist approach in its design, featuring simple interfaces and self-explanatory options. What you'll do most with Hunter is search for emails associated with a certain organization.
So let's say you run a tech-oriented blog, and you want to reach out to bigger blogs in your niche as part of your link building efforts. Just paste the name of a website in Hunter's search bar:
(for popular blogs, you'll usually already see suggestions, along with the number of results to expect)
And then hit search.
Hunter will come up with a list of people working for said website, along with their position, and in some cases, a pattern for email addresses at the business: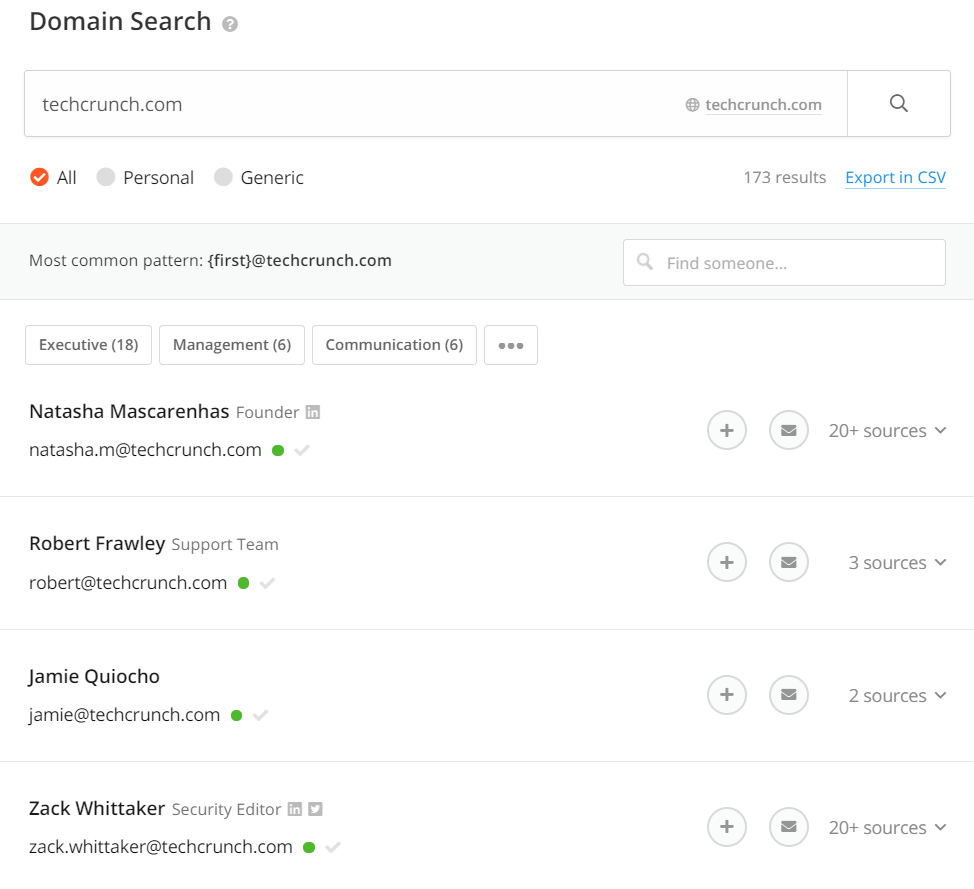 Hunter can sort these results based on the type of email address (generic, personal, or all of them) and based on the departments people work in at these publications, in a matter of seconds.
And that's a huge advantage, at least when trying to get in touch with bigger websites. That's because the founder of a big site like Techcrunch will probably let your emails sit in spam.
However, if your request is specific enough (let's say you want to do a piece on cybersecurity) it'll be easier to get in touch with the lead editor of that department.
Not to mention, you can sort through the departments depending on your needs. Again, if you want to power-up your link building efforts, you'll probably want to get in touch with someone from the editorial team.
However, if you're selling automation services for the support department, you'll want to get in touch with someone working there.
So as you can see, Hunter has a pretty sleek interface, and it's easy to navigate it to get what you need. All the other features are similarly easy to use, with some of them being even more straightforward, like the email verifier:
Hunter basically has no learning curve, so you can get started with it in no time.
That being said, let's get into the ups and downs of its features.
The Features Of Hunter Analyzed
If you've used the Authority Hacker Site System we put out, or if you just took a look at our blueprints, you'll know we're fans of Hunter. It's a tool we use, and it's a tool we're happy to recommend.
So that's why in this part of our Hunter review, we'll take a look at each feature it has to offer, just so you can understand why we like it so much, and why you should give it a try to.
Domain Search
There's not a lot of extra things I could say here, since we already analyzed the email finder by domain in the Interface section. You just paste a website and get a list of email addresses registered on that domain.
However, I will mention some things I really like about Hunter's email finder.
First of all, the addresses shown on display have verified sources to them:
Which you can pull up to see if the data Hunter offers is for real.
On top, you can choose to export all the email addresses belonging to an organization in a .csv file, which lets you automate outreach efforts even more.
Lastly, your outreach efforts are even more streamlined thanks to the quick links to other Hunter features, since you can simply click next to an email address to save the lead in a list of contacts, or simply send an email right away, as long as you have your gmail account connected to your Hunter.io account.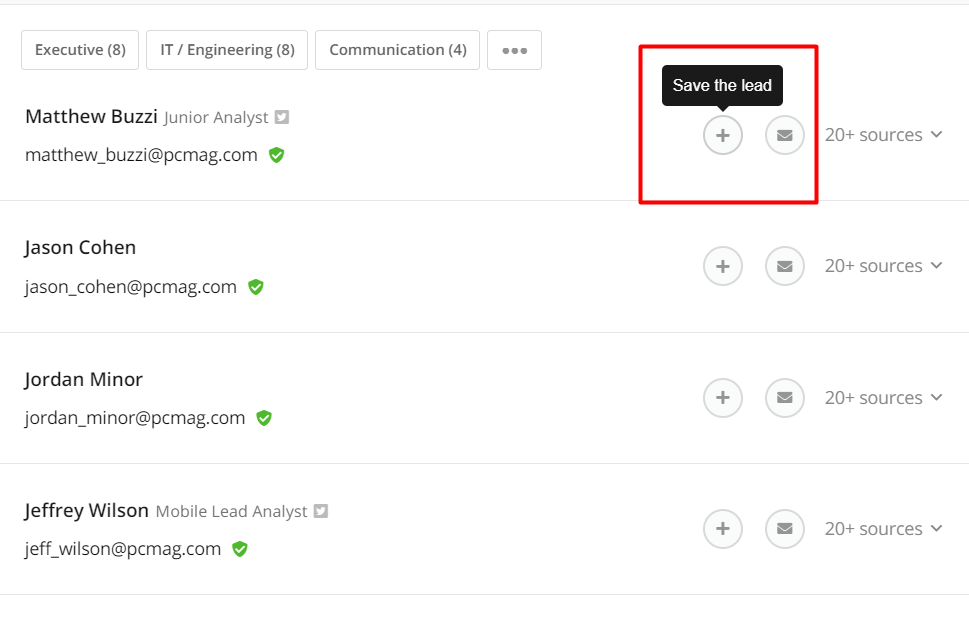 All in all, Hunter.io's cornerstone crawler is a solid feature, and it's part of the reason we use this tool so much. But it's not everything that it can do.
Email Finder
Let's say you met someone at a networking event and you didn't get a chance to write down their contact information. That's something Hunter.io can help with as well.
You can use it to find particular email addresses, as long as you know the full name and company website of someone.
In all honesty, it's not a feature we use most of the time, since it relies on acquiring information that usually comes along with an email address anyway. However, there are more times when it can be useful, besides getting in touch with people you've met at a networking event.
For example, you can pair it with manual Linkedin research to identify particular people you want to reach out to, and it's a great way to sort through the email addresses you acquire with the domain search feature.
Email Verifier
The email verifier tool is even more straightforward. You just have to paste an address you want to validate:
And you'll then get a screen saying if that specific address is receiving emails or not:

It also offers some other helpful details, like whether or not the address is publicly available on the web, the type of email address, and the server status of said website email addresses.
It's a good tool to sift through your own database, and the emails provided by Hunter, just to get your conversion data right and see what you have to improve on.
However, we do have a few problems with this email processing feature.
For starters, you can't verify webmail addresses (the regular ones, that end in @gmail or @yahoo).

Which makes sense for their focus on professional emails belonging to a specific web domain, but won't be that helpful if you want to verify an entire database.
Bulk Tasks
If you have a lot of email addresses to work with, you can use the bulk tasks feature to perform checks, searches, and verifications to a large amount of email addresses.
And so far, you've already seen 99% of what you'll be doing in Hunter.io. With the bulk email tasks feature, you can optimize your entire list, browse through a lot of domains and find a lot of people based on other information.
Bulk domain research specifically is a good way to find correct email addresses belonging to specific companies, or from a specific website address.
But Hunter tries to take things a bit further.
Leads
Hunter.io features a customer relationship management dashboard, where you can sort and sift through your database of emails.
Don't get us wrong, this is not a complex CRM. It's more of a place to keep track of the activities you do on Hunter, and a place to gather all the email addresses you find.
For that, it does a great job, since you can segment addresses in different lists, and filter through them based on company, position, or industry.
Moreover, you can easily export these leads to your CRM, or an email marketing application like Mailchimp.
And importing your database for further verification is really easy:
In all honesty, for simpler outreach processes like link building, this is all you need, since you wouldn't use the more advanced features of a CRM anyway.
Snov.io tries to take it a step further, and help you with your email campaigns even more, but we don't really think they pull it off, so Hunter's approach is the best.
Campaigns
Hunter.io's campaign management tool is not a complex one, but it's definitely something to help you get started outreaching.
Of course, it's not as fully fleshed and customizable as a campaign set-up in Mailchimp, but it still has all the basic options you'd need to start outreaching for any purposes, and it even comes with some of its own cold email templates.
However, its simplicity can actually be an advantage if you don't need to set-up complex optin forms or email sequences. For example, it's really easy to set-up a follow-up email: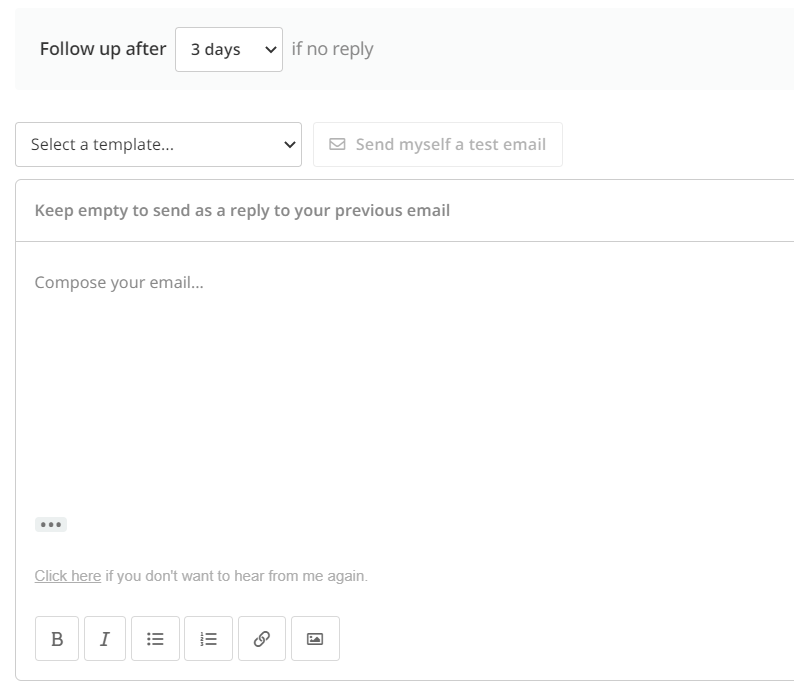 There are ways to improve upon this system. For example, the only rule for an automated follow-up is if you get no response, so more rules would be appreciated (for example, if someone clicks on a link in your email but doesn't convert).
However, for small campaigns like link building outreach, or any other type of campaign in which you have to personalize follow-up, this is all you need.
Hunter.io's Other Tools
Besides the main dashboard with the features we've already explored, Hunter.io also has some other tools you can use to simplify your outreach processes.
They're not extremely different from the main tool but they can still, in some situations, make your job easier, so let's talk about them.
Hunter For Chrome
Hunter for Chrome is a plugin that lets you search and verify email addresses when you're on the go.
The way it works is pretty simple. If you click on the plugin while you're browsing a website, it will automatically analyze the domain and give you email addresses related to that domain, along with sources and the pattern of email addresses on the website.
You can also add them to a list from the plugin itself, which makes it really easy to research prospects.
However, keep in mind that you won't be able to send emails directly from this screen, so you still have to stick to the main tool for campaign management.
Hunter For Google Sheets
The Google Sheets add-on is even better. It lets you find email addresses by domain search, and it automatically adds them to the sheet you have open.
You can also use it to verify the email addresses already in your sheets, but there is a catch you should keep in mind.
Google Spreadsheets is limited at around 500 actions at a time, so if you want to do bulk actions, it's still better to do them in the actual Hunter.io app, and then import them to Drive.
Hunter.io For Developers
Besides the easy to use Hunter.io features, this tool also offers an API to let you install Hunter on your apps, crawlers, or other tools.
I'm not a developer, but even for me their API seems helpful and easy to install:

So it's probably something you'll be able to use successfully if you want to power-up your own apps.
But enough about the product itself – let's talk about how much it'll cost you, and what you can expect from the service.
Hunter Pricing
If you want to pay for a monthly subscription, this is what Hunter.io will cost you:
As you can see, there's virtually no difference between the paid plans except for the amount of searches and verifications you get per month.
That's really good because you can make a plan choice according to your predictable outreach needs per month, although it's not as customizable as that of other Hunter.io alternatives.
The pricing is a bit steep, with $50 per month being the cheapest version (besides the free version), and almost $400 per month for the most expensive plan.
I think a 20-25$ per month option with 200-250 searches would be better suited for small sites that can only afford to do a limited amount of outreach, but these are the only options you get right now.
Oh and, since you don't get a free trial, you can actually use it for free indefinitely, you should go ahead and use Hunter to try it out, regardless of your company size.
Support And Getting Started
First of all, Hunter.io has a ton of resources to help you get started. For starters, most of the (already self-explanatory and easy to understand features) have a tutorial on how to use them.
You also get templates for your emails, and if you ever run into any issues, you can always contact the developers via direct chat in the bottom-right corner of your screen.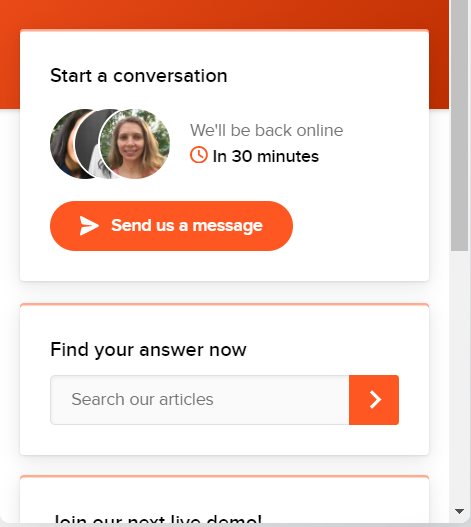 Plus, of course, they also have a knowledge base if you don't want to get in touch with support.
Overall, I'd say Hunter.io is one of the easiest to use tools I've ever reviewed, so you won't have a lot of problems getting started with it. Their email finder is basically as easy to use as Google.
Is Hunter.io Compliant With GDPR?
This is a bit of a complicated question, but we wanted to include it in our Hunter.io review just to share some of our insights on the topic.
All Hunter.io features operate in accordance with GDPR and other data protection protocols, so you can use their features to find emails knowing you won't get into any trouble. That's because the data it crawls is publicly available.
However, depending on what you use Hunter.io for, you might actually end up breaking data safety regulations.
Specifically, their email verifier and pattern suggestions can land you in trouble. If you use their suggested pattern to guess email addresses, and then use them as part of your email marketing campaigns without any approval, you're breaking data safety regulations (as long as those people live in the EU).
Second, if you just store those addresses in a database, even if you don't use them, that's also a breach of the GDPR. Just something to keep in mind.
In Conclusion
Hunter.io is a wonderful tool that can help you optimize your outreach efforts. Their domain search, email verifier, and email finder tools help you crawl for addresses, and their leads and campaign features are a great aid for your link building or cold emailing needs.
So we suggest you give Hunter.io a try, it's free. If you like it, the paid plans are affordable, even when you pay per month.