Around the world, we spent $316 billion on jewelry last year.
To put that into context, Americans spend more on shoes, jewelry and watches than they do on higher education.
Jewelry is a big market!
Thankfully, there is already a thriving affiliate marketing industry. According to IRP Commerce, almost one third of jewelery sales came as a result of affiliate marketing in May 2017.
But, is this a good thing? Is there too much competition? Is there still money to be made?
Let's take a look and find out.
The Jewelry Industry
Market Overview
The great thing about the jewelry niche is the diversity.
Jewelry covers a lot of products but it covers even more people.
That is because people wear different jewelry based upon their age, events in their life, their country, the sub-culture they belong to, the sports they do.
For me, having an interesting angle with a specified target market is extremely important to the success of any authority site. If you can zone in on who your customer is, what their problems are and then position yourself in a way to solve that problem, you're site has every chance of being successful.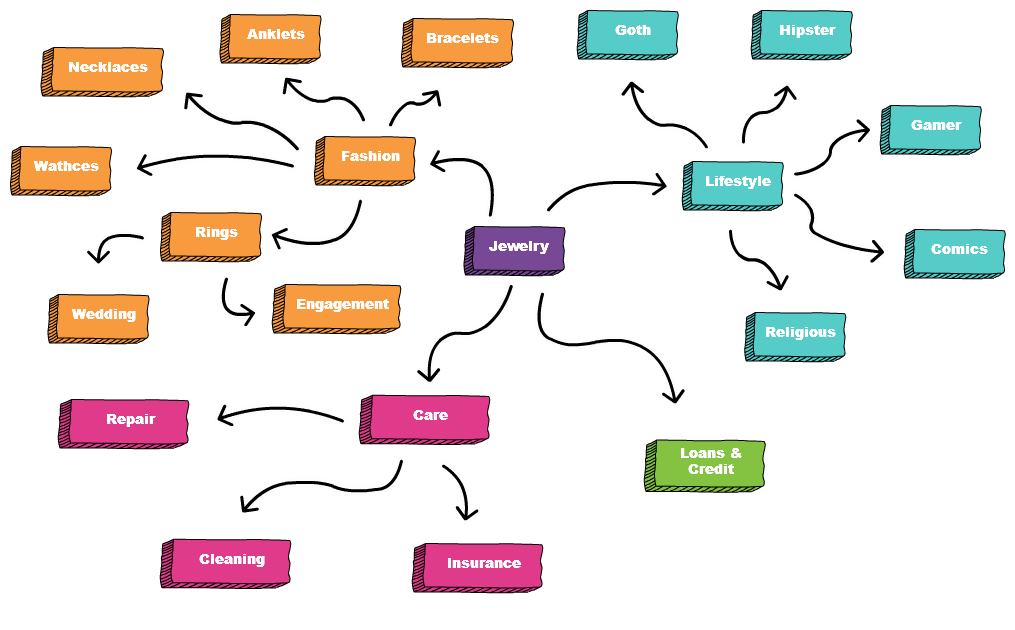 One thing to note about the jewelry industry is that they are really making use of platforms such as Instagram. There is an aspirational aspect to jewelery and to Instagram celebrity culture that allows them to work together extraordinarily well.
I have worked with a small watch company in the past that was getting 40,000 visitors per month to their site from Instagram. This was over 75% of their total traffic.
Daniel Wellington watches has to be one of the most successful jewelry companies doing this. If you can create a following on Instagram it is a great way to diversify your traffic from the traditional authority site model where most comes from organic search.
A hidden benefit of this is that it reduces risk if, for any reason, you happened to be penalized by Google.
Jewelry Industry by Numbers
What are People Searching For?
What Jewelry Do People Buy?
| Keyword | Difficulty | Volume (desc) |
| --- | --- | --- |
| kay jewelers | 22 | 603,000 |
| engagement rings | 42 | 249,000 |
| pandora jewelry | 17 | 201,000 |
| mvmt watches | 7 | 102,000 |
| blue nile | 28 | 101,000 |
| fossil watch | 18 | 84,000 |
| ear piercings | 5 | 53,000 |
| vintage engagement rings | 15 | 22,000 |
| diamond earrings | 10 | 22,000 |
| watch repair | 0 | 18,000 |
| rose gold engagement rings | 4 | 15,000 |
| guess watches | 2 | 11,000 |
| hoop earrings | 4 | 10,000 |
| necklaces for women | 3 | 9,500 |
| jewelry repair | 0 | 9,500 |
| mens earrings | 1 | 8,400 |
| ankle bracelets | 1 | 7,500 |
| black diamond ring | 4 | 7,300 |
| pocket watches | 7 | 6,800 |
| morganite engagement ring | 1 | 4,600 |
| gold rings | 3 | 4,400 |
| gold watches for men | 8 | 3,700 |
| daniel wellington watches | 10 | 3,400 |
| best watches under 200 | 5 | 2,700 |
| cross necklaces for women | 1 | 2,600 |
| men's necklaces | 2 | 2,100 |
| used rolex watches | 14 | 2,100 |
| pokemon engagement ring | 0 | 2,000 |
| batman wedding ring | 0 | 1,300 |
| classic watches | 6 | 1,300 |
| single pearl necklace | 1 | 1,200 |
| pippa middleton engagement ring | 8 | 1,000 |
| native american necklaces | 14 | 1,000 |
| guys with earrings | 0 | 1,000 |
Branded Keywords
Keywords with brand names in them are useful because they allow you to see how popular a brand is.
If people are searching for "pandora jewelry", "mvmt watches" or "blue nile" it is because they want to buy jewelry from those companies.
Knowing this gives you a headstart in identifying which affiliate programs you should sign up to and what products you should be advertising.
Local Keywords
On the surface, there are a few keywords that look ripe for affiliate marketing. They have really high traffic and zero competition. It's the perfection combination!
But, when you actually perform a Google search these are keywords that are dominated by local search results.
"Watch repair", "jewelry repair" and, to a lesser extent, "ear piercings" fall into this category. Sometimes when you are doing keyword research it is easy to come across these false positives.
However, that does not mean that you cannot make use of these keywords. For example, if you were running a local site or some kind of directory it could be a great way to get traffic.
Sub-Niche Keywords
There are a number of keywords in this list that lend themselves to interesting sub-niches.
"Classic watches" could easily be a website in its own right. There is not a lot of competition for this keyword.
A quick search on Ahrefs shows that across various keywords there is enough traffic to maintain an authority site on the topic, especially when you begin to look at specific branded watches (such as Casio watches) or considering that there are 6,800 searches per month for "pocket watches".
"Cross necklaces for women" could be part of a website aimed at Christians or even as part of a wider religious jewelry website. There is very low competition here and if the trend is replicated across different faiths it could lead to significant traffic and revenue.
"Pokemon engagement ring" and "batman wedding ring" are as interesting as keywords as they are preposterous. While most people go for a traditional wedding, people love to express their personalities. In everyday life people wear Batman earrings or Mickey Mouse watches.
This gives me the impression that there is scope for a comic book jewelry website or a "nerd culture" jewelry website.
The competition is very low, especially considering that the search volume is healthy. There could be a real opportunity for someone there if they are fast.
It is this range of niches and sub-niches that makes the jewelry industry exciting for affiliate marketers and people looking to launch authority sites.
Purchase Intent Keywords
I was surprised putting this list together. There are so many keywords with purchase intent that have a very low keyword difficulty.
Keywords such as "hoop earrings", "mens earrings", "ankle bracelets", "single pearl necklace" and "men's necklaces" all have very low keyword difficulties.
These are perfect to create recommendation content pieces, reviews, list posts or something more imaginative to get traffic and convert that to sales.
Who is Doing Jewelry Affiliate Marketing Well?
Jewelry Notes
Jewelry Notes is a magazine style website that talks everything jewelry. According to Ahrefs, the site gets around 91,200 visitors per month from organic search.
This is impressive given the site has 501 referring domains. This backs up the impression that there is a lot of traffic out there with very little competition in the jewelry niche.
The company has obviously done well with its keyword research given that, despite only one of the top pages ranking first in Google, each of the top five pages is receiving over 1,000 visitors from organic search per month.
In order to monetize, Jewelry Notes simply slides plain text links into their articles. For me, this is extremely promising. The site has almost 500 pages of content but it is not overly optimized for monetization. If a financially focused and skilled internet marketer managed to get their hands on this site, they could generate a lot of money.
An example of a monetized page is this Pave diamond ring shopping guide.
This is just a simple guide that details everything about Pave jewelry. In fact, it is quite dry and boring.
But, the page gets around 1.1k visitors from organic search per month.
To monetize, there is a simple text link titled "Click here to browse an extensive selection of pave jewelry".
All this is, is a link to the pave jewelry section in Amazon.
Again, what is interesting here is that this can be optimized with images and particular products to generate more revenue.
What Jewelry Notes shows us about the jewelry niche is that it is possible to do an average job and generate a lot of traffic. We can that deduce from that, if we did things well, there is a lot of money to be made in the jewelry niche.
What Offers are Available in Jewelry Affiliate Marketing?
Pros of Jewelry Affiliate Marketing
Cons of Jewelry Affiliate Marketing
Should you Start a Jewelry Affiliate Marketing Website?
Yes.
There are so many sub-niches, you can build a community, there is plenty of search volume and the competition is not overwhelming or prohibitive.
In fact, the competition is not all that fierce whatsoever.
On top of all of that, there are lots of great offers or you can chose to monetize through Amazon.
All in all, there is next to no downside in my eyes.
So, what are you waiting for? Get started!