Think that legal affiliate programs aren't a fantastic way to monetize an affiliate website?
OBJECTION!
Fact is, there's plenty of money to be made in the legal industry. Indeed, projections suggest the revenue generated by legal services in the US will exceed $348 billion by 2024. That's a whole lot of pin-stripe suits, gavels, and stupid white wigs.
So which are the best legal affiliate programs to promote? Which law firms should you be focusing on, and which should you be avoiding like a dodgy class action suit? Let's find out.
Legal Affiliate Programs
LawDepot
LegalZoom
Rocket Lawyer
LegalNature
Practice Panther
Best Case Leads
Legal Contracts
Standard Legal
Online Divorce
Termly
7 Secrets
To Make Affiliate Sites 83% More Successful!
Join our FREE Training and learn how to:
Find profitable, hidden niches
Steal your competitor's best keywords
Get links without paying a dime
Build fast sites that rank quickly
Law Depot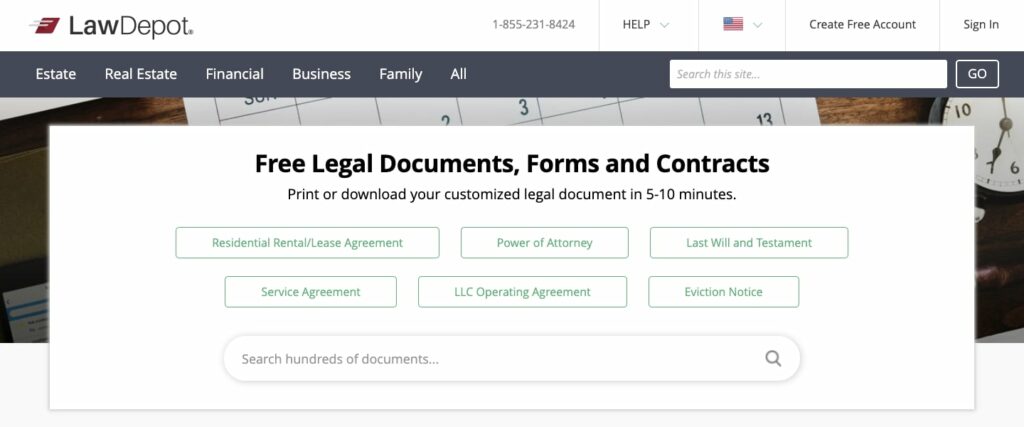 Unsurprisingly, legal documents are extremely confusing. If they weren't, we wouldn't need lawyers at all — and what kind of a world would that be?
That's where Law Depot comes in. It sells templates of legal forms, starting out way back in 2001 with its first ever document — a templated promissory note (apparently, that's a fancy way of saying "IOU").
Today, Law Depot offers more than 150 templates, suitable for use in all 50 states across a range of legal issues. The website has helped more than 10 million users save thousands in legal costs, so unsurprisingly it's pretty popular, with a 4.5 Trustpilot rating based on over 4,500 product reviews.
Of course, it doesn't do all that for free. A single Law Depot document costs $7.50 – $35, while the website also offers subscriptions priced at $33 a month or $96 a year.
Through Law Depot's affiliate program, you can earn affiliate commissions of 30% on each sale, with a generous 365-day cookie window. You'll also be able to access dedicated support from the website's affiliate manager.
URL: LawDepot affiliate program
Commission rate: 30%
Cookie length: 365 days
LegalZoom
Legal Zoom (or "LegalZoom.com, Inc" to give its full name) provides affordable access to legal professionals, achieving savings by automating simple, admin-related tasks.
It's helped more than four million people worldwide deal with a range of common legal matters, covering everything from personal finance to business formation or dissolution. Customers have used the website to buy and sell 500,000 homes, and launch 1.5 million companies.
So how does the LegalZoom affiliate program stack up against other law firms?
On one hand, a 15% commission seems pretty low compared to a lot of the other affiliate programs on this list, and the 30-day cookie window is nothing special.
But on the other hand, prices are comparatively high (e.g. a mid-tier business formation package costs $329), so there's definitely lots of earning potential here.
URL: LegalZoom affiliate program
Commission rate: 15%
Cookie length: 30 days
Rocket Lawyer
Rocket Lawyer is another website that aims to make legal services simpler and more affordable by providing access to hundreds of types of legal documents, covering real estate lease agreements, independent contractor arrangements, and much more besides.
It also offers affordable legal advice to its customers.
Over the years, Rocket Lawyer has provided accessible legal assistance to 25 million people. Users can connect by phone, email, or chat and receive legal advice in just one business day, while also enjoying discounts on hiring an attorney.
Similar to Law Depot (and several other websites), Rocket Lawyer runs two different pricing models. Customers can either purchase a single document for $39.99, or access unlimited documents by signing up for a premium membership at $39.99 a month.
So should you sign up and start earning through Rocket Lawyer's affiliate program? Well, with a 30% commission rate and a seven-day free trial to incentivize customers, it's a compelling proposition.
URL: Rocket Lawyer affiliate program
Commission rate: 30% per sale completed
Cookie length: 30 days
LegalNature
LegalNature sells online legal documents and services that are easy to access and compliant in all US states. From attorneys to business owners, thousands of people use the website each day to access personal and business-related legal help.
A big selling point of LegalNature is its secure, personalized dashboard that stores all your legal forms. Those forms can be created, edited, downloaded, and printed at any time and from any device.
Whether down to that fancy dashboard or something else, people clearly like LegalNature, awarding the website more than 5,000 five-star Trustpilot reviews.
How about LegalNature's affiliate marketing program? Well, it's almost identical to Law Depot and Rocket Lawyer; single legal documents cost $34.95, while all-inclusive subscriptions are priced at $38.95 a month or $84 a year. Whichever option you promote, you'll earn a 30% recurring commission on all sales.
URL: LegalNature affiliate program
Commission rate: 30% recurring
Cookie length: 90 days
PracticePanther
PracticePanther sells law practice management software that helps law firms leverage the benefits of automation, helping them accomplish more in less time.
It's rated "excellent" by Trustpilot, with an average rating of 4.3 from more than 5,000 reviews.
Now, as you'll have gathered, PracticePanther is targeting a B2B audience. Generally, B2B products have a longer sales cycle than their B2C alternatives, because the prices are often higher and there are more decision-makers involved. That can make the B2B world a little challenging from an affiliate marketing perspective.
However, there's lots of upside here. The commissions are generous, if a little complex: you earn $100 per referral from your affiliate links, but not until those referrals spend $100 with PracticePanther.
To make your life easier, the website offers a 30-day quibble-free refund period. What's more, when you sign up for the PracticePanther affiliate program, you'll get access to lots of graphics, high-converting banners, ads, and anything else you need to earn money.
URL: PracticePanther affiliate program
Commission rate: $100 per referral (once they spend $100)
Cookie length: Unknown
Best Case Leads
Sticking with the B2B theme for now, Best Case Leads sells — funnily enough — case leads.
In other words, law firms use it to search out potential new clients, and they pay Best Case Leads for the privilege.
Founded in 2015, the company has adapted its approach over time, helping it increase the volume and distribution of leads by more than 230% across numerous verticals. Impressive!
Now to the affiliate program, which works a little differently to the other affiliate programs here. Rather than being paid to promote products, in this case you earn money for referring high-quality leads.
Using Best Case Leads' geo-targeting databases, you can sell those leads across a range of segments, including state, city, and zip code.
Commissions are typically paid on a Net 30 basis.
URL: Best Case Leads affiliate program
Commission rate: Unknown
Cookie length: Unknown
Legal Contracts
Enough of that B2B stuff — let's get back to the business of selling legal documents!
Much like some of the other websites we've looked at, LegalContracts helps users create and print personalized forms and contracts by completing simple, step-by-step questionnaires.
Millions of customers have used LegalContracts to access various "flavors" of form, covering everything from real estate, business, and finance, to family and estate planning.
By this point, you shouldn't be surprised to learn that LegalContracts offers two pricing models — per document (from $7.50) and subscription-based (from $96 per year).
Sign up for its affiliate program and you'll earn a flat 30% commission on all sales, while also getting access to a wide selection of affiliate links and banners.
URL: Legal Contracts affiliate program
Commission rate: 30%
Cookie length: Unknown
Standard Legal
Standard Legal sells — you guessed it — legal documents!
But it's a little different from the likes of Law Depot and Rocket Lawyer, because as well as selling templated documents, it also offers a form completion service for people who don't feel comfortable filling out those complex-looking documents themselves.
And in another shock development, its legal services affiliate program doesn't offer a flat 30% commission rate. Instead, affiliate marketers earn 25% commissions on all document preparation services, plus a juicy 50% on templated legal forms.
That gives it more earning potential than any of those competitor programs. On the downside, the website is a lot less polished than its rivals, which might make for a slightly tougher "sell".
URL: Standard Legal affiliate program
Commission rate: 25% – 50%
Cookie length: Unknown
Online Divorce
Divorces are famously pretty stressful, so I can definitely see the appeal of completing them online rather than in-person.
That's exactly what Online Divorce does. Its tools have helped more than 500,000 people secure quick, stress-free divorces, while saving a bunch of money in the process. In fact, it claims the average client saves at least $1,700 on lawyer fees, which isn't to be sniffed at.
The whole process carries a 100% guarantee of court approval, too, so there's no chance of finding out you're actually still married several years down the line.
Prices for the Online Divorce service start at just $139. That seems very reasonable, and also makes its affiliate program commission rates of $60 – $80 per approved sale sound extremely generous.
URL: Online Divorce affiliate program
Commission rate: $60 – $80 per approved sale
Cookie length: Unknown
Termly
Okay, by this point we're all sick of legal forms, so let's finish by looking at a totally different legal service — compliance solutions.
Compliance might not sound very "sexy", but it routinely costs businesses thousands of dollars in legal fees.
Termly aims to disrupt the compliance market by helping its clients keep up to date and compliant with a range of privacy laws — such as CCPA and GDPR — free of charge.
Customers can sign up for a free plan including one legal policy and a single website domain with up to 10,000 monthly unique visitors, or upgrade to a premium plan with unlimited policies, domains, and visitors for $20 a month.
If you think that sounds pretty attractive, you won't be shocked to hear more than 300,000 businesses have already signed up with Termly.
The website's affiliate program works on a 35% revenue share per sale, with a generous 180-day cookie window. It's partnered with affiliate network Impact to ensure 100% accuracy on referral tracking and enable real-time updates.
Commission rate: 35% revenue share
Cookie length: 180 days
Conclusion: Are Legal Affiliate Programs Right for You?
As you can see, there's no shortage of money to be made from promoting legal services.
But it's not the simplest affiliate marketing niche to monetize. There's a good chance you'll need to create content on some pretty complex topics, and you definitely want to avoid inadvertently offering inaccurate legal advice. That's a whole world of pain.
Still, if you can keep things impartial and simply point your audience in the right direction, there's a lot of potential here. You just have to build a quality affiliate website and start generating traffic. And while that's not the easiest task, your buddies at Authority Hacker are here to help!
Just sign up for our free training and we'll give you all the tools to create a high-converting affiliate site fit for 2023 and beyond.