Here at Authority Hacker, we love all things affiliate marketing, but even we have to admit that some affiliate niches just aren't that interesting. They might be incredible for earning money, but they're pretty dull.
Movie affiliate programs are different. Whether you're obsessed with 1960s Eastern European art house titles or don't watch anything other than the latest superhero films, we're all movie lovers to some extent. That makes movie affiliate programs a comparatively easy sell.
Not only that, but there's plenty of money to be made here too. Not only through box office receipts — which obviously took a battering during the pandemic — but also by promoting the myriad streaming services that now exist.
In this article, we're going to take a look at the best movie affiliate programs out there right now, from high-profile streaming platforms to sites selling movie tickets. So without further ado, let's go on with the show!
Movie Affiliate Programs
Amazon Prime Video
Hulu
CBS All Access
Dish Network
Sling TV
NOW TV
Philo
Fubo TV
AMC Networks
Fandango
Amazon Prime Video
I'm guessing you already know what Amazon Prime is. If you live in the US, there's a good chance you're already a customer, with 126 million Americans signed up as of Q1 2021.
While a lot of users are subscribed to Amazon Prime Video as part of the wider Amazon Prime package — which includes many benefits, like cheaper and faster delivery — movie buffs can sign up for the video streaming service as a standalone option for $8.99 per month.
Amazon Prime Video is home to about 24,000 movies and more than 2,100 shows, while customers can also add more than 100 premium channels, and buy or rent additional content not included in their subscription.
So how can you make money through this movie affiliate program? Well, it's all about encouraging your audience to sign up for free trials, with Amazon paying $2 – $2.50 per registration.
As all you eagle-eyed affiliates will have noticed, I used the word "free". That means you don't need to drive a single purchase to earn money here.
Of course, unless you're sending huge volumes of traffic Amazon's way, you're unlikely to make a job replacement income through this affiliate program alone, but it can still be a nice way to top up your income.
Hulu
Hulu is another big name in the streaming game.
Owned by The Walt Disney Company and Comcast, as of the first quarter of 2021 it has close to 43 million customers, meaning it acquired nearly eight million new subscribers over the previous 12 months.
Hulu has a wide range of price plans, varying from $5.99 – $70.99 per month. As you can likely guess, the more you pay, the more exclusive content you'll get access to — with that top-tier service including live TV access and ad-free viewing across more than 65 channels, including CBS, NBC, and Food Network.
Whichever package they chose, subscribers get access to a catalog of more than 1,200 contemporary and classic movies, plus a large selection of TV shows.
In short, while Hulu is geared more toward TV content than movies, there's still plenty of scope to target movie lovers through this affiliate program.
Paramount Plus
Paramount Plus is the streaming service formerly known as CBS All Access, having rebranded in early 2021.
Just before it got a new name, the owners of Paramount Plus — CBS and Viacom — revealed the service had almost 30 million global subscribers. That's a lot of people, although it pales in comparison against the likes of Amazon Prime Video and Netflix.
Today, Paramount Plus has a library of more than 20,000 TV episodes and films from across numerous categories and brands, including BET, CBS, MTV, Nickelodeon, and Paramount Pictures itself.
Like the sound of Paramount Plus? Well, sign up for the affiliate program and you'll earn commissions of $9 for every sale you refer via your text links and banners, provided they sign up within the 10-day cookie window.
Dish Network
Launched back in 1996, Dish Network is a US digital broadcast satellite TV provider.
While those "traditional" TV services have been under attack from so-called cord-cutting streaming platforms in recent years, Dish still has close to 9 million customers across the US. As of 2018, it held a 15% share of the country's pay TV market, with its rival DirecTV owning 21%.
As with any pay TV service, you can pretty much watch all the movies and TV shows you can dream of via Dish Network — as long as you're prepared to pay for it. However, those prices are pretty high compared to the streaming services they're competing with today.
One upside of those high prices is that Dish's affiliate program, run via Commission Junction, offers a generous commission of $100 per order. And unusually for an affiliate program, you can still "earn" the sale even if someone signs up over the phone after visiting your website.
Sling TV
Sling is an Emmy Award-winning live streaming TV service that offers more than 700 channels from a host of major networks, including general interest, Latino, and international broadcasters.
The brand runs two general market streaming services — Sling Orange and Sling Blue. Collectively, they incorporate content from the likes of Disney, ESPN, Fox, NBC, AMC, the NFL Network, and much more besides.
As well as offering plenty of free content, Sling allows customers to access à la carte channels and services, plus Pay-Per-View events and on-demand movies.
Sling TV's movie affiliate program pays out when users hit your referral link and sign up for a seven-day trial or fixed-term subscription. Unsurprisingly, longer subscriptions earn higher commissions.
The only real downside is that Sling TV is exclusively available in the US, so if your audience is based in other countries, this one's not for you.
NOW TV
Now TV is a UK-based streaming service operated by satellite television provider Sky.
Launched back in 2012, it's now available in the Republic of Ireland, Italy, Austria, Germany, and Switzerland. As of the third quarter of 2020, it had more than 2.2 million customers in the UK alone.
As with most of the other affiliate programs on this list, Now TV isn't exclusively about movies; it also offers a variety of sports and entertainment content. But movie buffs who sign up for the Cinema package can access more than 1,000 films, from new, popular movies to cult classics, with a new film premiere offered every day.
Now TV's affiliate program pays from £2 – £8 per order, including £4 for sales of one-month cinema passes, and £5 for cinema membership upfront payments.
Philo
Philo is a live streaming service that offers access to more than 60 TV channels — including Comedy Central, Discovery, Food Network, and Nickelodeon — for just $25 per month.
At less than half the subscription price of YouTube TV and Hulu + Live TV, it's unsurprisingly popular with bargain hunters, although it also offers access to premium movie channels like EPIX and Starz.
Of course, with such a (comparatively) cheap price point, there's always going to be some trade-off. In the case of Philo, that trade-off is a lack of live news and sports channels. But if you're only in it for the movies and TV shows, maybe that's not a big deal?
Promoting the Philo affiliate program means driving sign-ups for its seven-day free trial offer. Again, as with Amazon Prime Video, that means you earn commissions — in this case, a generous $10 per subscription — whether or not your referrals sign up for a paid plan.
FuboTV
FuboTV is a North American and Spanish streaming service focused predominantly on live sports — think NFL, MLB, NBA, NHL, MLS, CPL, and international football.
But with a catalog that also includes the likes of AMC, SHOWTIME, SYFY, and Lifetime, there's plenty here for movie buffs too.
Now, all that content is definitely at the premium end of the market, so FuboTV isn't cheap. The base package costs $59.99 per month, although you get a lot for your money, including more than 100 channels, plus personal cloud DVR storage, and two simultaneous streams. And you don't need to commit to a minimum contract or buy a set-top box.
Another good thing about that high price point: lots of commission! The FuboTV affiliate program pays $30 per confirmed subscription, making it one of the highest-paying affiliate programs on this list.
AMC Networks
AMC is a massive US TV network that's home to a bunch of high-profile shows, including The Walking Dead, Better Call Saul, and Killing Eve.
But the entertainment company also operates four separate movie streaming services — Shudder, Sundance Now, Allblk (formerly known as Urban Movie Channel), and Acorn TV. From the horror-themed Shudder to Sundance Now's focus on true crime and prestige dramas, you'll find a wide variety of classic movies and new releases here.
By the end of 2021, those various streaming properties are expected to have at least nine million subscribers, climbing to 20 – 25 million by 2025.
In other words, there's a potentially huge audience out there for these services — and you can earn a slice of the metaphorical pie by referring your website visitors to AMC's free trial offer. For every signup you drive, you'll earn an $8 commission.
Fandango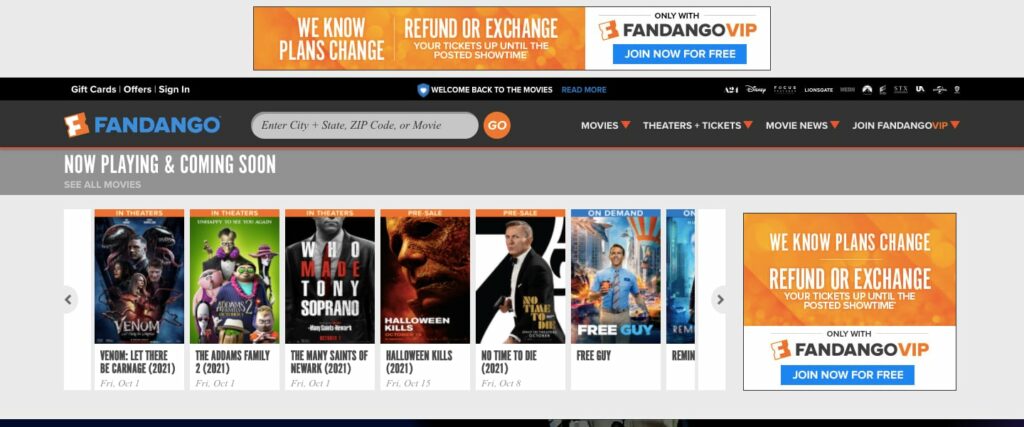 Unlike all those streaming platforms and TV providers, Fandango is a movie website that sells gift cards and tickets (remember — people still occasionally watch films at the cinema rather than on their couch).
More than 36 million movie fans use Fandango to buy movie tickets for more than 26,000 screens across the US, while the site also offers exclusive products like videos, photo galleries, and insider news.
By signing up for Fandango's movie affiliate program, you'll earn a $0.10 cut of all movie tickets sold via your affiliate links, and a slightly more generous 3% share of all gift card sales.
To help you along the way, you'll get access to Fandango's own content — including movie clips and trailers — as well as exclusive, affiliate-only promotions.
Conclusion: Are Movie Affiliate Programs Right for You?
There may well be "no business like show business", but as you'll have seen from this article, movies affiliate programs aren't exactly the highest payers in the affiliate world.
In all honesty, you're probably not going to become a millionaire here.
But that's not necessarily the most important thing. If you love the movie industry, and dream of spending your time promoting all the hottest new releases and much-loved classics, there's definitely scope for earning a job-replacement income through these affiliate programs.
Of course, before you can do that, you need to build a movie website, do your keyword research, and create some high-converting landing pages. 
👉 Check our guide on How to Start a Movie Blog
All of that stuff is easier said than done — but we can help. Sign up for our free training, and we'll tell you everything there is to know about starting an affiliate site.