This week Gael is joined by Lewis for his first appearance on the podcast.
Lewis has been a writer for Authority Hacker for the past six months. His main job is doing the review content. Basically, we buy him some tools, he plays about with them for a month or so and then writes up what he thinks.
Mixed up in there are a whole bunch of experiments to get a real working experience of what the tools can and cannot do in the real world.
Over the past few years, we have used Thrive Content Builder extensively and recommend it to our members as the best tool to help grow their sites.
However, recently there have been a number of new entrants to the market along with some of the more established players updating their offerings. We noticed that, in certain areas, TCB was starting to lag behind the competitors.
So, with Thrive Architect being released this week, we are going to be discussing page builders in detail to find out what is the best builder to grow your site.
What is a Page Builder?
A page builder is a design tool in the form of a Wordpress plugin.
It gives you a visual environment to build your site (usually using drag and drop elements) without worrying about complex code.
It makes it easy to create buttons, columns, tables or whatever else design elements you want to use to make your content more useful for your readers and better than the competition.
Page builders allow you to work within the page itself rather than using the Wordpress default editor. This allows you to make edits and view them immediately rather than make a change, view the preview, adjust it slightly, view another preview and so on until you are happy.
No, what page builders do is to render the page the same way it would show for the end user, while you are editing the post.
What Happens if the Developers Go Out of Business?
These are private companies in the tech space. Some of them will fail, it is inevitable. So, you have to be very careful about tying your fortunes to a private company that could go out of business.
This is especially important to consider if you are creating evergreen content. Some of this content can still be ranking and making money 10 years down the line.
But, if you think about it, 10 years is a lifetime in the tech industry. There are no guarantees that any of these companies will still be around in that time.
So, it is important to examine what happens to the content if this were to happen.
In some cases, if a page builder goes out of business or the company stops maintaining the builder, it can render your existing content completely useless. All it leaves is a mess of nonsensical Wordpress shortcodes – we're looking at you Visual Composer.
However, some of the builders preserve your content well. These companies have ensured that the pages are put together in such a way that they are compatible with the default Wordpress editor. They are not perfectly preserved by any means but it is still a workable solution.
Does it Slow Down Your Website?
Some page builders can produce what is known as bloated code. This essentially means that it takes them 10 lines of code for an element that should take 3 or 4 lines of code.
This translates to your browser taking longer to render the visuals and slows down the site.
You want a page builder that focuses on producing lean code. Code that is efficient and doesn't force the browser to jump through hoops will lead to faster load times.
The two best page builders at doing this are Elementor and Thrive Architect.
How Do They Work With Other Plugins?
In most cases, the page builders work relatively well with other plugins.
However, you cannot edit the plugins directly in the page builder. The shortcode will render but any management or changes that are required will have to be done within the traditional Wordpress environment.
As long as there is no complicated JavaScript and the plugin is managed from Wordpress then it is unlikely that there are going to be any issues.
Do Page Builders Affect SEO or Prevent You From Ranking in Google?
Page builders themselves will not stop you from ranking in Google but there is a school of thought that any unnecessary code will slow your site down and Google likes fast sites. Therefore, page builders affect rankings.
But, we don't necessarily believe that page speed is a major factor in SEO. In Gael's mind, page-speed is a ranking factor but it's around 1% of the algorithm. SEO practitioners spend a disproportionate amount of time talking about page-speed compared to the actual impact it has on rankings.
If you think about it, page builders spit out HTML in the same way a coder would.
Yes, if you hire a bad coder who has bloated code then it will negatively affect your rankings. The same applies for page builders.
On the flip side, the added visual elements and additional engagement with users that page builders create is a positive for SEO. It can also make building links easier because people love pretty things.
How Were the Page Builders Tested?
The first step for Lewis was to make a shortlist of the most popular page builders at the moment. After doing some research, we settled on the following:
Once the shortlist was compiled, it was time to get onto the tests. Some of the criteria that were compared were:
Ease of use – the number of clicks to complete an action, how intuitive the builder is, etc.
Flexibility – How easy is it to customize elements, what options are there to change the layout
Speed – Was there any lag with the builders in between customizing elements
External Issues – How secure the company is, the level and rate of development
Support – How much support there is, response times, are they helpful?
Preconceptions
Before testing, Lewis had the impression that Visual Composer was outdated. Over the course of testing, this proved to be the case.
Similarly, he believed that Divi would be very flashy, with lots of elements. Again, this proved to be true over the course of testing.
There were also some nice surprises. Divi has a feature called "Selective Sync" that allows you to store design elements globally to be reused in other articles.
The free version of Elementor also surprised. Lewis did not expect it to be as good as it was. It's bordering on crazy how much they are giving away.
Standard Test
To test all of the page builders with a real life task, Lewis decided to build the Trello homepage with each of them.
When you try to build a complex page, it can show up things that you may not have otherwise noticed in a simple test.
This task really showed what was good and what was bad about each builder, along with the general feeling of the builder. Whether it was easy, frustrating, infuriating or stress-free.
One thing that specifically came out of the test was the importance of being able to create a section and duplicate it rather than create the same 15 or so elements over and over again.
What We Thought About Each Builder
The idea behind Divi is better than the execution.
We loved the idea of editing the live page and that means that they don't have to have the sidebar in the same way that Elementor and Thrive Architect do.
So, instead, when you click on text it brings up about a dozen pop-ups that you need to wade through. It's just an all round frustrating experience.
Divi wasn't a big hit at all.
In fact, it was the only builder that forced Lewis to throw a temper tantrum and quit while doing the Trello test.
In general, it was cumbersome, buggy, unresponsive and just not very intuitive.
There also aren't a lot of positives with Visual Composer.
On the plus side, it's cheap. It only costs $40 but this is with a single site, non-commercial license.
On the negative side, the interface is very minimal yet still manages to be confusing. There are a lot of redundant elements to fill up the library and then there is a premium library where you pay for additional elements – such as an undo button.]
It feels like they reel you in with a cheap product and then proceed to upsell you for anything more than the very basics.
It is also very slow, you constantly have to wait for elements to load.
All in all, it was a major disappointment.
People who use it, seem to like Beaver Builder a lot.
Initially, you can see why. The interface is clean, it's beginner friendly and the support is first class. You can also save design elements globally and you can use it on unlimited sites.
However, it is very rigid. There is a lack of customization options available and just a lack of elements in general.
The major drawback, however, is the speed. There was a delay on every click. This really begins to become frustrating as it adds up over time.
It's not all bad news though. If Elementor and Thrive Architect were not options, Lewis would probably settle on Beaver Builder.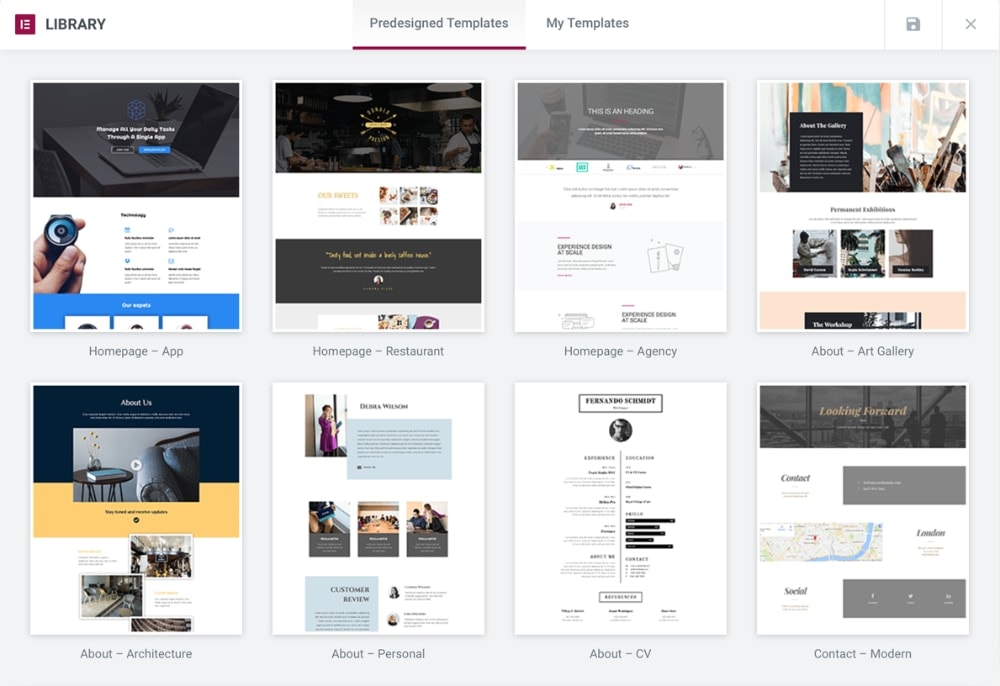 The crazy thing about Elementor is that they have a really good free version available. Although the Pro version has some additional elements, the free version is a pretty good alternative.
The main positives of Elementor are:
Clean
Well designed – the elements look much better than they do on Thrive Architect
Easy to use
Fast
Lots of elements and lots of customization
The main drawbacks are:
No inline text editing – you have to edit the text from the sidebar
Inability to combine elements – There is a complicated workaround but there is no easy way to combine or nest elements
Building an email list – It does not have integrations with other tools or plugins that easily allow you to build a list.
Update
It looks like Elementor plugs into a new opt in plugin called mailoptin which makes list building a bit better but still far inferior AND more expensive than the Thrive suite.
The general consensus is that we love what Elementor does but it is not aimed at people making money from content on their site, it is more aimed at brick and mortar businesses that are looking to generate an inquiry through a contact form.
Like a lot of people, we've been waiting a long time for Thrive Content Builder to be updated. So, we were desperate to get our hands on Thrive Architect and test it out.
The first thought is that it is a huge improvement from the original. All of the elements are much more customizable.
There is a new "properties" panel where you can change the styling, color, layout, etc.
At the moment, there are still some bugs but there is a full-time team working to resolve these issues.
There are also a few minor annoyances, but these are really just nit-picking. Things like when moving an element you have to click on a specific place rather than on the element as a whole.
Which Builder Would We Recommend to a Friend?
If a friend had $100 to spend on a page builder we would recommend that they buy Thrive Architect but also, that they get the free version of Elementor
We would then tell him to use Elementor on pages like the homepage to make it look amazing.
But, to build a list or edit long content, we would still recommend Thrive Architect. The lack of an inline text editor within Elementor makes it a nightmare to edit long content.
For internet marketers, Thrive Architect is the only builder that has the ecosystem to support everything that we want to do.
For someone creating a brochure site where they actually make their money offline, we would recommend using Elementor to create a really beautiful website.