ClickBank has been around for a long time.
Since 1998, in fact.
That means ClickBank is one of the oldest networks out there.
A garage start-up run by three friends has grown to become a business with an annual turnover of US$1 billion.
ClickBank is also slightly different from most other networks because it focuses primarily on digital products.
Although they do also feature some physical products these days.
But is ClickBank still worth using today?
Let's get started with our ClickBank review to find out.
Signing Up
Their signup process is very straightforward.
Simply enter your location, name, telephone number, and email address:
The signup page is also available in six languages, so that's a nice touch.
Once you've entered your personal details you then click on 'Continue to Terms and Conditions'.
This is the usual scroll quickly and click the 'Accept Terms and Conditions' button.
And then once that's done you can finally click on 'Join ClickBank!"
Note: You must live in a country that ClickBank can make a direct deposit to.
It's a sad fact of life but affiliate networks can't operate in certain countries because of the risk of fraud and/or legal restrictions.
So if you're an affiliate marketer living in one of those countries you're SOL I'm afraid – always review the TOS for any service before signing up.
The next step is being offered some free training.
You also get a "Welcome" video to watch…which subtly tries to upsell ClickBank vendors on a monthly membership.
You're then encouraged to complete your publisher profile, including payment and contact details.
It was bizarre to see my home province listed in Irish Gaelic here, but it shows they've made a real effort with localization.
Then the final step is to 'Optimize your performance' by telling them if you're an affiliate, a seller, or a researcher.
Now, this might sound a little odd, but you need to create an account within your main account for certain features to work.
This is what ClickBank refers to as your 'Nickname'.
Which will also be part of your referral URL, so it can't be any longer than ten characters.
You can be clever here and use something related to your niche e.g. pets100.
It's annoying to have to do this as a secondary step – it used to be part of the actual signup process.
But once you do that you're now free to roam the ClickBank marketplace and start promoting digital products.
Wait…they don't ask for any website or traffic details during the sign-up process?
Nope.
That's part of the attraction of ClickBank – there's a very low barrier to entry here.
What brands can you promote with Clickbank?
This is where you find out you're dealing with a different type of affiliate network.
Basically, this ain't Kansas, Dorothy.
ClickBank sells both digital products and some physical ones too.
But the thing is these are all brand names you probably won't recognize.
You might have seen some of them in your social media feed or in pop-ups via retargeting campaigns, but that's it.
Here's a random sampling of the top-converting products on ClickBank to show you what I mean: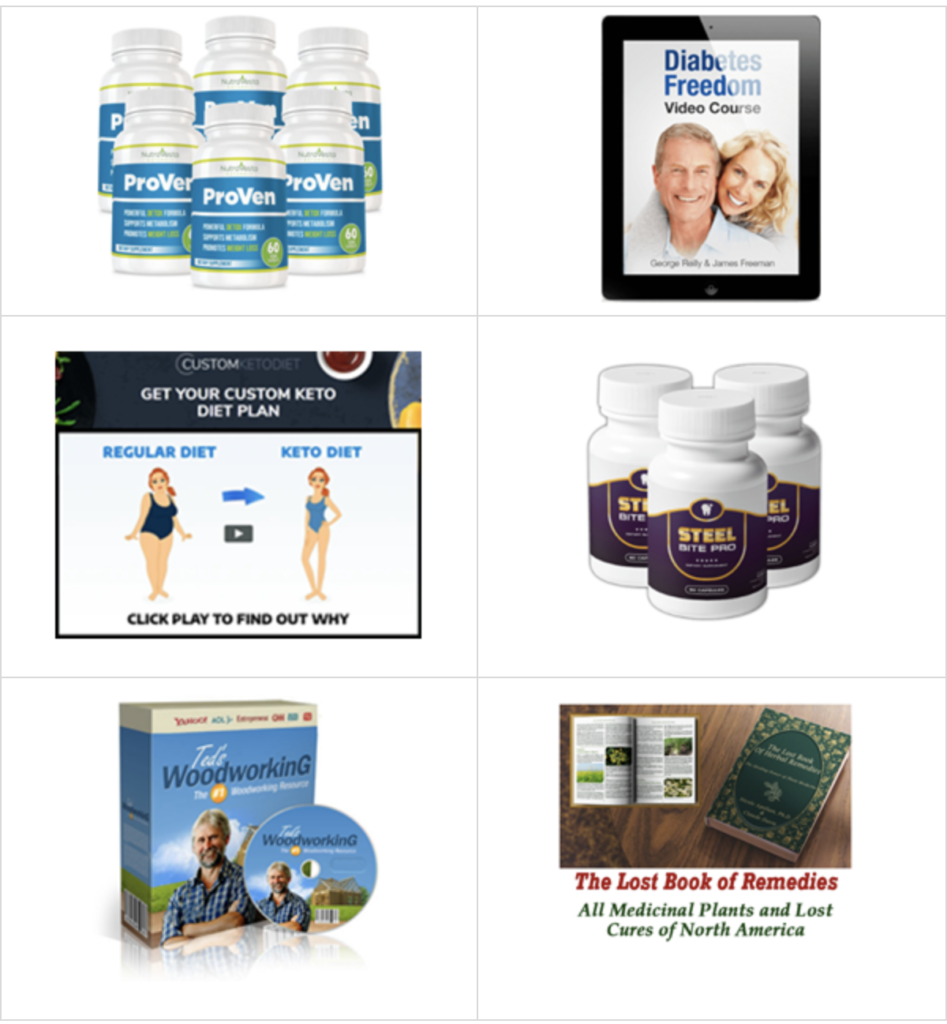 Do any of these products look familiar to you?
Probably not.
But that doesn't stop products just like these selling by the truckload.
And earning the average affiliate marketer a very nice chunk of change in the process.
One interesting finding is that many of the best selling products on ClickBank are now health supplements.
That's a big change from even a decade ago.
Ease of Use
I've been around ClickBank for about 20 years and it appears – praise all the Gods – that it is finally getting a facelift.
It's still not the prettiest affiliate dashboard out there.
But it keeps things simple.
And it does that by using WordPress for its backend.
Most affiliate dashboards come with their own training tutorials…so you know you're in for a UX nightmare.
Not so with ClickBank – it's basically a blank canvas with a handful of functions:
Dashboard
Tickets
Transactions
Reporting
Accounts
Users
Affiliate marketplace
Profile
Support
The only one that really needs any explanation here is 'Transactions' – this is very, very useful for tracking down serial refunders.
But the one that's of most interest to us is the 'Affiliate Marketplace' button.
Because this is where you'll find ClickBank offers to promote.
Finding affiliate programs on Clickbank
The ClickBank Marketplace is where all the action happens.
It's also a sign of just how old this platform is:
Yup, it looks like one of those clipart sites you thought was cool.
When you were 10 years of age.
But there's also a certain logic behind the lack of change evident here.
Mostly the approach that if something isn't broken, then don't fix it.
And although their interface is horrendous by modern standards…it's still doing the same job it has for 22 years.
Which is helping you find profitable affiliate programs.
You can do this by using either keyword searches or browsing individual categories and filtering the results.
So if we wanted to find all the ClickBank affiliate programs for fat loss, we'd simply enter that keyword:
And you get the following:
It's worth mentioning here that ClickBank's ability to sort results by 'Keyword Relevance' usually drops off a cliff after the second or third page of results.
Basically, their keyword search functionality is a bit shit.
But the ability to filter by a number of different metrics such as 'Popularity' and 'Gravity' work just fine.
Wait…what has 'Gravity' got to do with affiliate marketing?
Even if the movie was awesome.
ClickBank, in its divine wisdom, decided to simply not use the same EPC metric as every other affiliate network on the planet.
Well, they did, but they decided to call it 'Gravity' instead.
So now is as good a time as any to look at the various ClickBank metrics you can use to filter keyword or category search results.
Gravity – this is an approximate measurement of how well a product converts – a higher number is better.
Initial $/sale – How much an affiliate makes for the initial sale, minus any monthly recurring payments
Avg %/Sale – The amount of commission an affiliate marketer earns per sale
Avg Rebill Total – The average recurring amount the vendor charges customers each month
Avg %/Rebill – The percentage of recurring commissions you get
Now let's review the different categories in the 'Marketplace':
Some of these categories are obviously going to be more popular and profitable than others.
Like 'E-business & E-Marketing' for example, or 'Health & Fitness'.
So if we drill down into the 'Health & Fitness' category on ClickBank it automatically populates with a list of available programs.
You can add a variety of filters to your search query to narrow things down a bit.
In the above example, I set it to only show me products with a (1)'Gravity' score of 20 or above and a minimum (2) 'Initial sale' value of $20.
Why choose a 'Gravity' score of 20?
That's explained in our in-depth article on how to make money with ClickBank.
But there's an additional set of attributes you can use to refine your results even further:
Required Product Type(s)
Required Language(s)
Required Billing Type(s)
Required Attribute(s)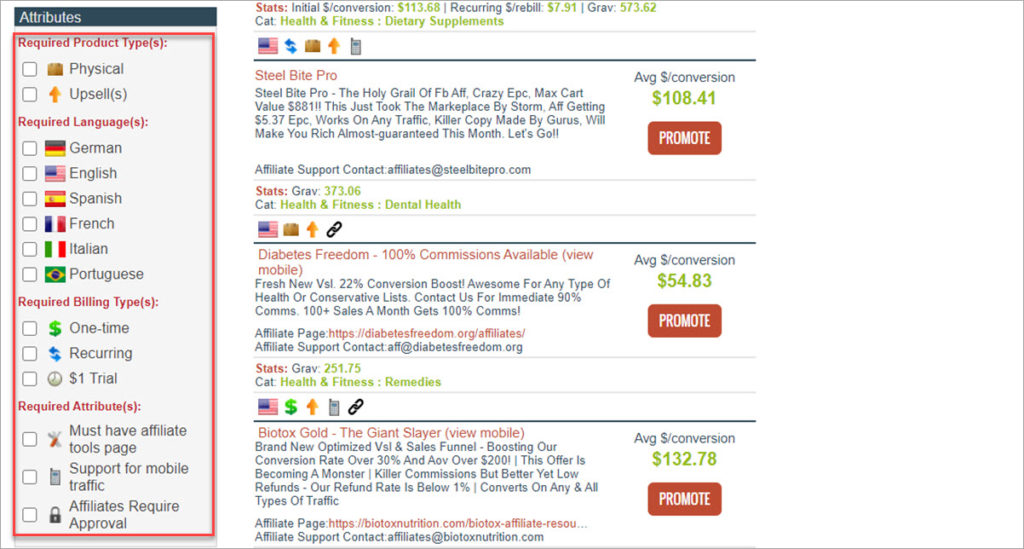 So, you can also filter by 'Rebill' if you're only looking for ClickBank programs that offer recurring commission, for example.
But you can also tweak your results to only feature products available in specific languages.
Or that actually ship physical products to customers i.e. 'Shippable Media'.
From a product-finding point of view, ClickBank has most of its competition licked.
If only the interface wasn't so damned ugly…first world problems though, right?
The flipside of this is that most affiliates only search for products with a high 'Gravity' score and/or initial sale value.
Most of the other features are really only window dressing.
Creating affiliate links
ClickBank has made the process of creating affiliate links stupendously simple.
Basically, you find a product you want to sell and click on 'Promote':
A pop-up window appears where you simply add the account nickname you created during the setup process:
And click 'Generate Hoplinks' to create your link, which will look like this:
Why are they called 'Hoplinks'?
That's very much a "…just because" answer.
Somebody obviously thought it was a clever way to differentiate a ClickBank link from any other type of affiliate link.
But what about banner links and graphics for your site?
Well, the thing is…there's no guarantee there'll be any.
It's down to the vendor.
And you'll have to navigate to what are basically affiliate resource pages to find banners.
But there's absolutely no guarantee your vendor will have one of these pages.
This means you'd need to actually email vendors asking them for banners or other sales material.
Which is sillier than an inebriated bear trying to knit itself some mittens.
In their defense, the better vendors do a pretty good job of supplying affiliates with all the promotional materials they need.
And that often goes beyond just banners to include swipe files filled with articles, autoresponder sequences, etc.
The affiliate link creation process is very decentralized…but it works.
ClickBank is one of the only networks to manage affiliate links this way.
But, on review, it's still far less convoluted than what you have to put up with on other affiliate networks.
Getting Paid
Yes, promoting ClickBank products is fun.
But it's also fun to make money.
That's what affiliate marketing is about, after all.
So let's review how that works with this particular affiliate network.
Payment timeframe
The vast majority of affiliate networks operate on a net 30 payment schedule.
ClickBank, on the other hand, offers weekly or bi-weekly payments.
But you won't actually receive your payment for an additional two weeks after your payout date.
Basically, it will take 4 – 6 weeks for your ClickBank payments to start overlapping with each other until you feel like they're weekly or fortnightly.
But I never once had a problem getting paid by ClickBank – they always paid on time.
Payment methods
You can choose to receive your ClickBank payment either by check or direct deposit.
But that's it.
An additional note here for international affiliates is that ClickBank checks don't arrive overnight.
So you can tack an additional seven days onto your payment timeframe.
This isn't as complete a set of payment options as some of you might like.
There's no option to get paid via Payoneer, PayPal, or wire transfer, for example.
While this might be annoying for some, ClickBank obviously has a reason for doing this.
But it's probably down to a lack of demand i.e. most affiliates are happy with payments by check or direct deposit.
Payment threshold
You need to earn the tiny amount of $10 in commissions to trigger a ClickBank payment.
But I'd suggest keeping your threshold set a lot higher if you can only receive payments by check.
Bank charges will decimate checks under $100 in value.
So, keeping your ClickBank payment threshold set to at least several hundred dollars is a better move.
Note: You do also need to generate at least 5 sales before you can receive a payment.
This was to help prevent something we discuss in the next section.
Refunds
ClickBank's real Achilles Heel is that they offer a 90-day money-back guarantee.
This is great news for customers because they can return anything they're not happy with.
But there are unscrupulous people who will use this same money-back guarantee to get stuff for free.
They basically order the product, download it, and then ask for a refund.
And the sick thing is that it's mostly affiliate marketers who do this.
Well, it's really just scammers pretending to be affiliates.
But it is an ongoing issue with the platform that can eat into your ClickBank affiliate commissions.
Publisher Help
ClickBank keeps their publisher support system to a bare minimum.
You can choose between using their ticketing system or the knowledgebase.
But that's as far as things go.
There is a 'ClickBank University' but this costs money, and is only suitable for vendors/advertisers.
It looks like they're attempting to put together a 'Community' section, but it's blank so far.
They'd probably be far better off setting up a Slack channel instead.
Their knowledgebase is pretty comprehensive.
I just wish they'd use more mixed media like screenshots and tutorial videos.
The blocks of text are fine, but again pretty dated looking.
So, there's nothing actually wrong with their support options except that it feels a bit dated.
ClickBank Reviews
So let's look at some ClickBank reviews to see what the average Joe and Josephine think of this network.

A ClickBank user obviously making good money and happy with the site.
Feedback from another affiliate who is still receiving checks from ClickBank for blogs he no longer updates i.e. the same products are converting eight years later!
But with the good, we must also accept the "bad".
Like somebody getting their ClickBank account terminated for no apparent reason.
But you read a little further into his story and you realize that…his second account got canceled, plus he's also permanently banned.
Which means he was buying products through his own ClickBank affiliate links to give himself a discount.
Affiliate marketers have done this for literally decades now.
So you have to be careful when reading any ClickBank reviews – they're not always altruistic in nature.
Where ClickBank does kind of stand out from the crowd though is with their social media presence.
They have a very active Facebook page with 91k followers…and no visible negative feedback.
So it would appear they've nailed their customer service.
ClickBank Review Summary
URL: ClickBank
Year established: 1998
Number of merchants: 3,500+
Offer types: CPA/CPS
Weighing it up
So what's our objective take on ClickBank?
Pros
The oldest network solely for digital products
Very high commission rates (up to 90%)
One of the few networks to offer recurring commission
ClickBank provides a 60-day cookie across the board
No approval needed to promote products – just click and go
Creating affiliate links is very easy
ClickBank offers weekly and fortnightly payouts
There are products to suit most niches
Cons
The dashboard is a clusterfuck of old and new interfaces mashed together
You have to trawl through hype to find decent products
ClickBank is no longer the only player in the digital product marketplace e.g. Udemy
We do have a post with ClickBank alternatives so you can try other affiliate networks.
Conclusion
So that brings us to the end of my ClickBank review.
ClickBank provides affiliates with a marketplace to find a wide range of digital, and some physical, products to promote.
In fact, I remember the good old days of affiliate marketing when you could direct link from AdWords to ClickBank products and make truly easy money.
The real issue this network has this is that literally anyone can sell a product on ClickBank.
And that includes lots of products by "Get rich quick" and "affiliate marketing" gurus.
Which has given the platform something of a negative reputation by association.
But it's not all crap.
There are some really solid affiliate programs to be found on ClickBank.
You can make money there.
You just need to do your research, read reviews, and look for legit products.
Yes, they have a lackluster interface, and teething problems…but affiliates still make money promoting their wares.
And if you're interested in making money online (and who isn't?) why not check out our free 2-hour training class on building your first affiliate site.
You'll learn the basics of niche and keyword research, as well as what it takes to actually get a site online.
And you don't have to buy a damned thing from us.
Just let us know the best email address to send your invite to.
P.S. If you found this review helpful then why not share it on social media?