What should I use to build my site?
What functionalities do I need?
How well will my site perform if I build it with a specific solution?
If you ever wanted to build your own authority site, you've asked yourself these questions.
And while WordPress is usually the platform people choose for this, it still doesn't answer all of those questions.
You still need to decide on a theme, a page builder, and some plugins.
GeneratePress wants to take care of it all.
So is it a good choice to build your site with? Let's find out in our GeneratePress review.
GeneratePress Review: Our Verdict
The Free version of GeneratePress is pretty loaded. We think it's one of the best themes out there, even without upgrading to the premium version. If you're not sure what theme to pick, and you want something fast and lightweight, definitely choose GeneratePress.
If you have a good time with the free theme, or if you're already sold to their system, upgrading to GP Premium is also a good idea. The hook system, site library, and theme builder make it a valuable addition to your online marketing toolkit.
What's GeneratePress?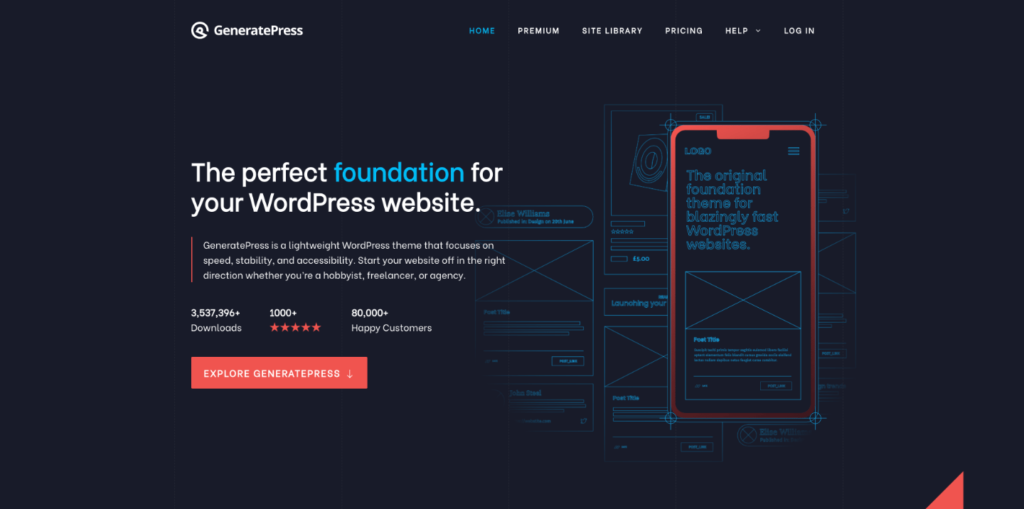 GeneratePress is a multi-purpose WordPress theme that's minimalistic, low-code, and easy to customize.
It's also lightweight (takes up 61 KB) and it's completely free to download and use (although it does have a Premium version that we'll talk about in a bit).
For a quick answer – The GeneratePress theme is good.
If you're digging it and want to make sure it's a decent choice, you can go ahead and install it.
It has functionalities to build anything, from a blog to an ecommerce store.
But should you get the free version, or the premium one?

Can it replace a page builder?
With no need for a child theme, the GP Premium plugin, as well as the free version offer a great experience that integrates seamlessly into the WordPress dashboard.
Keep reading our GeneratePress review to find out more.
GeneratePress Review – Free Version
If you're thinking about installing the GeneratePress free version, you might want to keep the pros and cons in mind.
We'll delve deep into all the nooks and crannies of GeneratePress in our review, but for a quick summary, here's what you can expect from the Generatepress theme:
GeneratePress Pros:
Lightweight and fast. It's actually the fastest Wordpress theme out there.
Easy to customize
A lot of options for editing your site
Supports any type of project
Native synergy with Thrive Architect
GeneratePress Cons:
No drag and drop development. You can still create beautiful websites with GeneratePress, but it's definitely a drawback for non tech-savvy people.
Not easy to integrate with a lot of third parties, at least when compared to other plugins.
Lacks crucial tools like blog layout editing.
Not the best customer support, even if the support forum is very helpful.
GeneratePress Features
Listing pros and cons is not enough to get a good overview of what the GeneratePress WordPress theme can do.
So let's analyze its features in turn, from the Layout, Colors, and Typography, all the way to custom code additions and other functionalities, to see if it's worth your time.
Site Identity
The site identity tab isn't that different from any other theme. It lets you edit the basic details of your site, like the site title, logo, or tagline.
But that's an important point about GeneratePress (and paid products from the company like GeneratePress Premium or GenerateBlocks).
They do their best to not steer too far from the WordPress customizer adding crucial features like the site library module without sacrificing simplicity.
Yes, this cuts down on some more complex customization options.
But it lets the GeneratePress theme stay extremely lightweight, load fast, and it lets you edit it easier.
Layout
The layout tab is where GeneratePress' functionalities start to shine.
You can use it to edit custom theme layouts like your header, sidebars, footer, and the blog section.
Overall, the customization available in this tab is great, though beginner users of WordPress might need some experimentation to figure out what each option does. Take the header for example.
Having access to presets helps kickstart your development, but for people that don't have a lot of experience with WordPress, "Inner Header Width" might be a confusing option.
Compare that to the process of editing a header in page builders (even completely free page builders) and you'll realize that for beginners, things like Elementor are much better.
On top of that, blog layout editing is virtually non-existent.
If you want more options over how it's displayed, you'll need to upgrade to the GeneratePress premium version.
Colors
The colors tab has a similar problem.
There are many more options with the GeneratePress premium plugin.
However, it's definitely not a bad feature.
You can still create a visual identity for your WordPress site with the help of this tab. It lets you modify the colors of important elements like:
Site background color
Text color
Link color
Blog post title color
Hover colors
The free WordPress theme also has color presets that you can use if you don't want to bother creating an identity in the initial stages of development.
Typography
The typography tab of GeneratePress is more advanced than what you'd usually find in most WP themes (and even most WordPress page builders).
GeneratePress has over 70 fonts to choose from, including popular Google fonts.
To modify the text, you get the vanilla WP options like font weight and size, but so much more on top of that.
Besides options for body text editing, you can also modify the same details for each heading type. This is especially valuable for affiliate sites.
With deep customization like this, you can give your site extra flair, and an identity that stands out in each blog article.
Menus
The menu tab is nothing special. It lets you edit the menu locations, the footer menu, and the main menu in the header of your site:
This tab lets you reorganize and add new menu options, together with links to your different site sections or off-site accounts.
Easy Pairing With Thrive Products
Moreover, we noticed that GeneratePress integrates natively with other tools you have. We happened to have Thrive installed on the site we tested GeneratePress with, and in the footer menu there was the option to display it in the Thrive-generated footer:
This is great if you already use Thrive products. It'll help you customize your entire theme, and site, much faster.
Widgets
The widgets tab lets you customize your header, footer, sidebar, and top bar.
As you can notice, individual footer widgets get more attention from the platform.
That's likely because footers have evolved to incorporate a lot of elements, including policies, links to the site, and links to off-platform accounts.
Like in the case of menus, there's nothing too over the board to talk about here.
It's a basic system to add widgets to your site.
The widgets themselves are a treat however.
Not only do you have a lot of options, like calendars, meta data from WP, archives, or audio, but GeneratePress integrates easily with both Thrive Architect elements:
As well as Elementor widgets:
This is a good time to talk about integrations, because it's not all rosey.
While GeneratePress free has a few integrations you can use (and even more if you buy GP premium, like ecommerce or e-learning integrations), they pale in comparison to the number of integrations in traditional page builders.
If you're looking to build a website using dozens of tools, you might be better off with a different theme, or a GP-page builder combo.
Home Page Settings
Like in most other WordPress theme customization editors, you can also modify your home page in the GP customization screen:
It's not a lot, so you'll definitely need an extra tool to make your homepage look just how you want it.
However, when you're just starting out and you're only interested in uploading content for it to get indexed, it can be a good temporary solution.
Additional CSS
The additional CSS tab lets you modify your site's layout by coding it. It's not a huge benefit if you're a beginner and don't really master CSS.
But it can be a huge benefit if you know your code and want to have more control over your site's appearance and structure.
Other Quirks And Features
GeneratePress has a lot of customization functionalities in the frontend. They manage to offer a decent amount of control (though not really enough on its own), but still maintain a lightweight structure, good loading times, and a manageable learning curve.
Besides what's on the frontend, GeneratePress also has a few other noteworthy features:
It's constantly updated to fit WP updates.
Its design is mobile-friendly, so you won't have to worry that much about responsiveness. A quick check will usually do it, and you can always switch things up if you disable elements for mobile devices.
It's SEO-friendly, allowing you to use it for an authority site that wants to rank on search engines.
You can add background images, disable elements from the page, add custom code, or edit the mobile header for responsiveness.
But GeneratePress has another card up its sleeve. The reason it can be the best WordPress theme is its high performance.
GeneratePress Performance
Like we hinted in the beginning, GeneratePress is extremely lightweight, only taking up 60KB of space on the server. This allows it to load fast, as such improving your audience's experience on your site, and your authority in the eyes of Google.
But just how fast is it?
How does it compare to other themes?
Let's find out.
To test the speed of GeneratePress, we put it head to head with two other popular WordPress themes: OceanWP and Astra. While writing this article, we had a website in development, which had the structure laid down, but not too many elements on each page. That's the site we ran these tests on.
The GeneratePress performance
As a site with a general structure, but no loading time fixes done to it, this is a decent loading time.
Astra theme performance
Overall, the site performed a bit better, but you can notice the structure is not as good, and the time blocked by scripts increases significantly.
Ocean WP theme performance:
As a fan of OceanWP, this was a bit disheartening to see, but it just goes to show that GeneratePress is the best WordPress theme that keeps your site's backend clean. On top, it's the fastest WordPress theme.
Is GeneratePress free enough?
The free version of GeneratePress is satisfactory, although it does seem like you're missing out on some features if you don't purchase GeneratePress premium.
Is the GeneratePress premium theme enough to develop your entire site, without the need of other tools like page builders?
Can this multipurpose theme pull it off?
Keep reading our GeneratePress review to find out.
What's Included In The Premium Version?
GeneratePress Premium is a huge update for the free Generatepress theme, with dozens of new features.
The GeneratePress premium modules include: a theme builder, a site library, enhanced customization for your blog, and a lot of other fancy tools.
Here are our thoughts on GeneratePress review: it's a good tool, but probably not enough for everyone.
Let's delve into each feature and find out why, as well as who can benefit from using this tool the most.
Getting Started With GeneratePress Premium
One mistake we made was trying to install GeneratePress premium modules as a theme.
It does help to read installation instructions sometimes… because we were met by this screen when first trying to install GeneratePress premium.
To properly install GP premium, you'll need to upload it as a new plugin.
Once you do that, you can activate it, and find its editing options in the Appearance tab.
There are a lot of premium modules, so it's great that the developer took some time to create great documentation.

We highly recommend you go through the documentation if you want to use GeneratePress. The information is nicely laid out, and it will help you hit the ground running with the plugin.
GeneratePress theme builder
With GP Premium, you get full access to the theme's code. This gives users total control over the layout and different elements on their site, as long as they know how to code, or they can hire someone that does.
However, you don't need to use this code playground to make changes.
Even custom CSS changes can be made in the Theme Editor screen that we explored earlier with the free version.
The difference now is that every tab and customization option has more features to play with.
The blog layout section, for example, is much more comprehensive.
All in all, the new options of the GeneratePress theme builder let you add more flavor to your site, which helps you create something unique and beautiful. To make full use of it, however, some knowledge of CSS is required.
Site library
The GeneratePress Site library serves two purposes.
First, it showcases different uses of GP Premium, and what it can do.
Second, it lets you install a pre-made website on your own platform, as a template to create your site. This is a huge plus, as it speeds up development and keeps beginner users from having to deal with a blank canvas.
In our case, unfortunately, we hit a roadblock trying to check it out.
A support article is available if you click on "Why?". It explains why this error sometimes pops up, and recommends refreshing the page.
In our case, that did the trick, and we were able to look at GP's site library.
The templates are diverse, and the sites you can create based on them look good.
So despite some technical difficulties, it's a big advantage to have this on your site building toolkit.
Hook system
GeneratePress has its own system that replaces child themes.
The hook system lets you insert dynamic elements on a page, which can then have any element added on top of them for extra customization.
You can access it by creating a new element:
And setting its value as hook:
This virtually lets you create your own shortcodes with CSS, to add elements on your pages.
While it could just be a hassle for global elements like headers or footers, it's an amazing tool to spice up your affiliate blog posts.
For example, you can create custom CTA's for the products you recommend, and just paste the shortcode in your articles whenever you publish a new commercial article.
Moreover, as you've probably noticed, it integrates natively with the Thrive suite, which makes GP Premium extremely valuable if you already use Thrive products.
Support
As you may have seen so far, GP Premium has fantastic support with exhaustive and helpful documentation, as well as great support for common errors.
It's safe to say, most people will have enough tools to make the most out of GP.
However, GeneratePress is mostly created by one person, so don't expect corporate level tech support.
The only way to get help for specific problems is to either send a ticket, or create a thread in a support forum.
It's great that you can get in touch with someone if you have any problems, but it's not as valuable as live chat.
Pricing
GP Premium has a decent pricing scheme. If you want to use the tool for a year, you'll need to pay $59, while a lifetime subscription is $249.
Both options offer a 30-day money back guarantee, so you can try the lightweight Wordpress theme without the fear of throwing money out the window if it doesn't fit your needs.
Moreover, the tool can be installed on over 500 websites, which basically means unlimited sites.
Technically, you can install the free GeneratePress theme to get a feel for how it operates. In our opinion it's too barebones to illustrate how GP Premium modules work.
Do You Still Need A Page Builder?
GP Premium is an amazing tool that lets you create stunning websites.
But is it enough to replace a page builder?

If you know CSS, the short answer is yes. Premium users have all the tools they'd need to customize their website and create something amazing.
However, it's not the right tool for everyone.
If you can't make the most out of its hook system, you will be better off with a page builder like Elementor, Thrive Architect, or Divi.
Most of them provide the same deep customization options in a friendlier interface, and with the added benefit of drag-and-drop editing.
As far as the free version of GeneratePress is concerned, you won't get a lot of mileage out of that tool.
It's a good free theme, and it's especially a good pick considering its high performance.
But if you want to create a beautiful site, you will need to either upgrade to GP premium, or get another page builder on the side. If you want to see GeneratePress in action, don't forget to check out their demo site.
Conclusion
GeneratePress is a wonderful theme, packed with just the right functionalities you'd expect from a free theme, but still maintaining a light size.
The premium version of GeneratePress adds a lot of features on this minimalistic interface, which makes it a great combo to create wonderful sites.
However, if you don't know your way around a CSS playground, you'll need to purchase a page builder on the side.