Hunter.io is an email finder and lead generation tool that helps your business with its outreach processes.
It's a wonderful plugin that we use and recommend for link building processes, but we have heard some criticism about it in the past.
On top, we explored the downsides we think Hunter has in this Hunter.io review.
So while we still recommend it, we can understand why you'd want to learn about Hunter.io alternatives. Maybe you need something cheaper, or something that's a bit harder to use, but has more features.
So that's what we're talking about today.
Hunter.Io Alternatives
FindThatLead
VoilaNorbert
Snov.io
ContactOut
Any Mail Finder
5 Best Hunter.io Alternatives
Before we get into our recommendations, we want to state the fact that we still recommend Hunter.io, especially if you want to do link building. It's a well rounded tool that's easy to use and extremely effective.
But again – if you have any problems with it, here are the best Hunter.io alternatives right now.
FindThatLead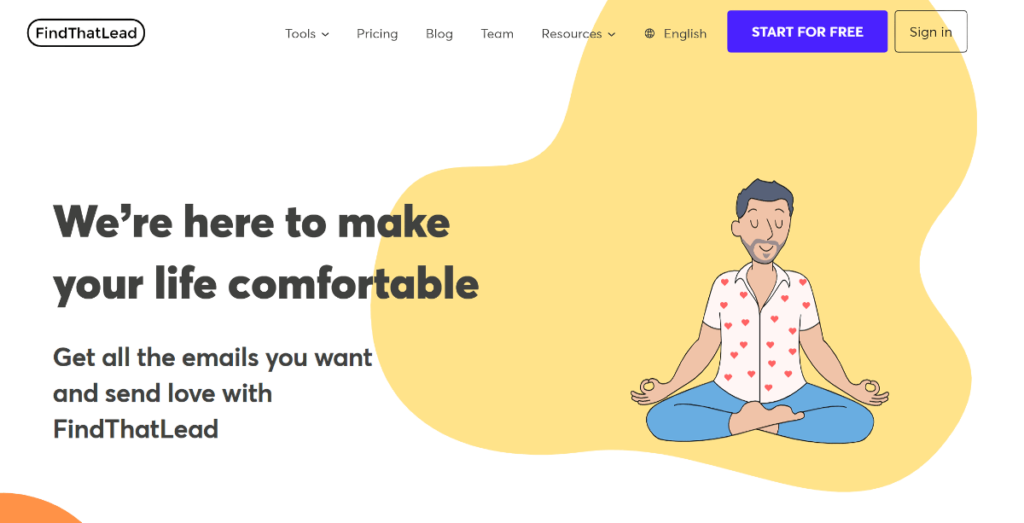 Right off the bat, you'll notice that FindThatLead is more focused on lead generation for sales purposes than simple finding email addresses, although you can still use it for other outreach processes.
All in all, it has similar tools to what you'll find in Hunter.io, like an email search option by domain, an email verifier, and a dashboard to manage leads and send emails to them.
Even if it's a bit more complex than Hunter (and as such, a bit harder to use when getting started) FindThatLead also offers a flawless user experience, with great tutorials and documentation to help you make the most out of the software.
It's biggest USP however – the social media researching tools. You can use the main dashboard of FindThatLead, or the Chrome extension, to crawl the internet for email addresses based on people's LinkedIn accounts, which is why this tool is so well suited for lead generation for sales.
Oh and, with a few APIs and the help of a developer, you can automate the process for your sales team to get to work.
And, it's priced the same way as Hunter.io (in fact, they offer more email crawls for the same price).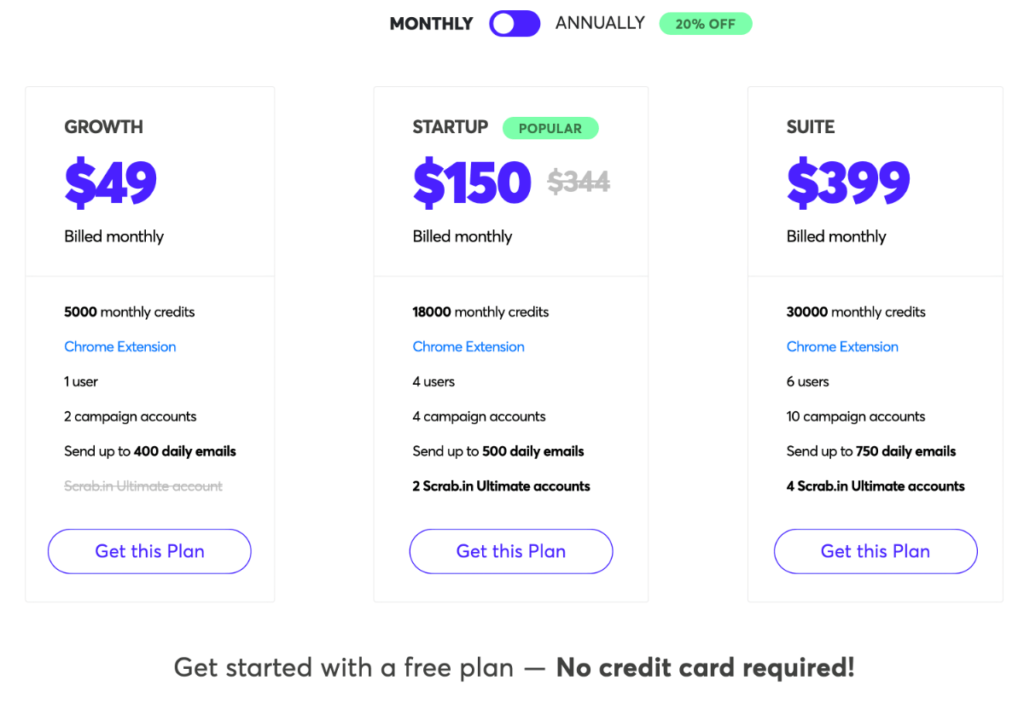 So if you're looking for a lead generation tool to boost your sales, this is the best choice out there, and not that expensive per month.
VoilaNorbert.com
When it comes to email addresses finders for lead generation, you'll notice that the market is pretty uniform. Most providers have similar features, services, and pricing, so it's hard to find things to compare between companies.
VoilaNorbert falls in the same category, but it does have a few disadvantages when compared to things like Hunter.io or FindThatLead.
For starters, it doesn't have a chrome extension, which can limit the freedom you have when researching. Moreover, it offers less leads per month for the $50 price point, at least when compared to FindThatLead.
Worst of all, it doesn't have a free plan you can use indefinitely, you just get 50 leads to try the system.
That's why it's not a good choice if you're on a budget.
But it does have something going for it: customizable costs.
With VoilaNorbert, you don't have to stick to a predetermined monthly cost, you can choose the amount of leads you need and pay for those.
Snov.io
Snov.io takes the model a bit further, offering lead generation and email addresses finder features, but also incorporating them in an actual CRM that your sales team can use.
For the most part, Snov.io is mostly Hunter.io reloaded, featuring similar tools, the same workflows and a low barrier of entry.
However, there are differences between the two. For starters, Snov.io also has social media researching tools, and it's also a bit cheaper.
Add to that the better fleshed-out CRM features, and Snov.io could be a good choice for people trying to find business emails.
However, we still like Hunter.io because it scrapes for data much better, and its interface is considerably more seamless and it makes it easier to use Hunter.io.
ContactOut
ContactOut is extremely similar to Hunter.io. It has a dashboard to help you find and validate email addresses, a dashboard to manage your address lists, and a Chrome extension to research on the go.
The first advantage over Hunter.io is that it can also research LinkedIn for email addresses, so again, a better choice for lead generation.
However, if you look at its interface and its onboarding, ContactOut seems to have been created for enterprises. You can't actually sign-up on the platform whenever you want, you need to get in touch with the sales team to get a quote from them.
Yes, it could just be a way to validate their leads, and it seems like they'll happily onboard you even if you're a small business. From our research, we found that their offers range between $20-$200 per month.
However, it looks like most of their clients are big enterprises, so they'll probably get all the attention. Still one of the best alternatives to Hunter.io though.
AnyMail Finder
AnyMail Finder is your run of the mill email finder, featuring must-haves like a bulk research tool, a classic email finder search engine for different categories of addresses, and APIs to let you incorporate their system into your tools.
It is a bit more pricey than what we've seen on this list so far – the cheapest plan will set you back $30 each month, but you only get 200 searches for that amount of money. On top, it doesn't have any free plan that you can use, you can only get 90 searches as a free trial.
But Anymailfinder is on this list, because it focuses more on bulk leads management, and offering great API support and integrations, which make it a decent choice for people that need an email crawler to integrate into their own tools.
What Email Finder Should I choose?
Now that you've seen some Hunter.io Alternatives, which one should you pick?
The shortest answer – again – is still Hunter.io. And that's for a few reasons:
Seamless design
Powerful features
Easy to use
Easy to get into
To put it simply, Hunter.io does what most of these tools can do, at a reasonable price (you can even use it for free, indefinitely) and it's all easy to use.
However, you did come here for Hunter.io alternatives, so let's talk about when to choose other products.
If you want a large quantity of searches for the cheapest price possible, FindThatLead is the best choice for you. While it doesn't have the same sleek design and accessibility as Hunter.io, it does offer the best price-quantity ratio.
If you want to customize your plan and aren't really happy with the ones on offer from any of the Hunter.io alternatives, VoilaNorbert is the email finder you want.
It has customizable pricing schemes, so you can decide what you pay for. This makes it really useful if you have a volatile supply for the products you want to deliver, and want to set your own price each month.
Snov.io is also a good choice if you're heavily focused on lead generation and don't plan to use the software you choose for other outreach purposes, but considering its pricing, we'd still recommend you either pick FindThatLead, or a Hunter.io and a fully-fleshed CRM combo.
Lastly, if you're a developer and plan on integrating an email finder, on any of the associated crawlers, into your own apps, we definitely recommend AnyMailFinder.
In Conclusion
Hunter.io is the best email finder tool out there, and you can find out why in our Hunter.io review. However, if you're looking for the best Hunter.io alternatives, you might want to look into (and try) these tools:
FindThatLead
VoilaNorbert
Snov.io
ContactOut
AnyMailFinder
However, your choice will depend on your email marketing needs, whether or not you value a chrome extension for your email finding needs, what API you need, whether finding email addresses by contact information is important to you or not, and a ton of other variables.
Once you have a clear idea about what you want from your email finding needs, you also need to take the service into account.
Shortlist some tools and then research pricing, whether or not there's a free trial, and what the customer service and customer support team is like.