Remember when Snapchat was the next big thing?
When the company was such hot property that Facebook attempted to buy it for $3 billion – and got turned down?
Well, it's fair to say those days are largely a thing of the past.
Just look how global search interest in the picture and video messaging platform has tailed off in the past five years:
So that means Snapchat's a waste of time for affiliate businesses, right?
Well, not necessarily.
The platform actually offers some pretty interesting affiliate marketing campaign opportunities.
You just need to know what you're doing.
Why Snapchat?
It may not be the world's buzziest app any more, but Snapchat still has a substantial user base.
And while growth has definitely tailed off in recent years, it's still on an upward trajectory.
What's more, it's predicted to keep growing at least until the end of 2024.
Unlike truly global social networks like Facebook, Snapchat's audience is dominated by a handful of countries.
It's particularly big in the US, which accounts for almost one-third of the platform's total users.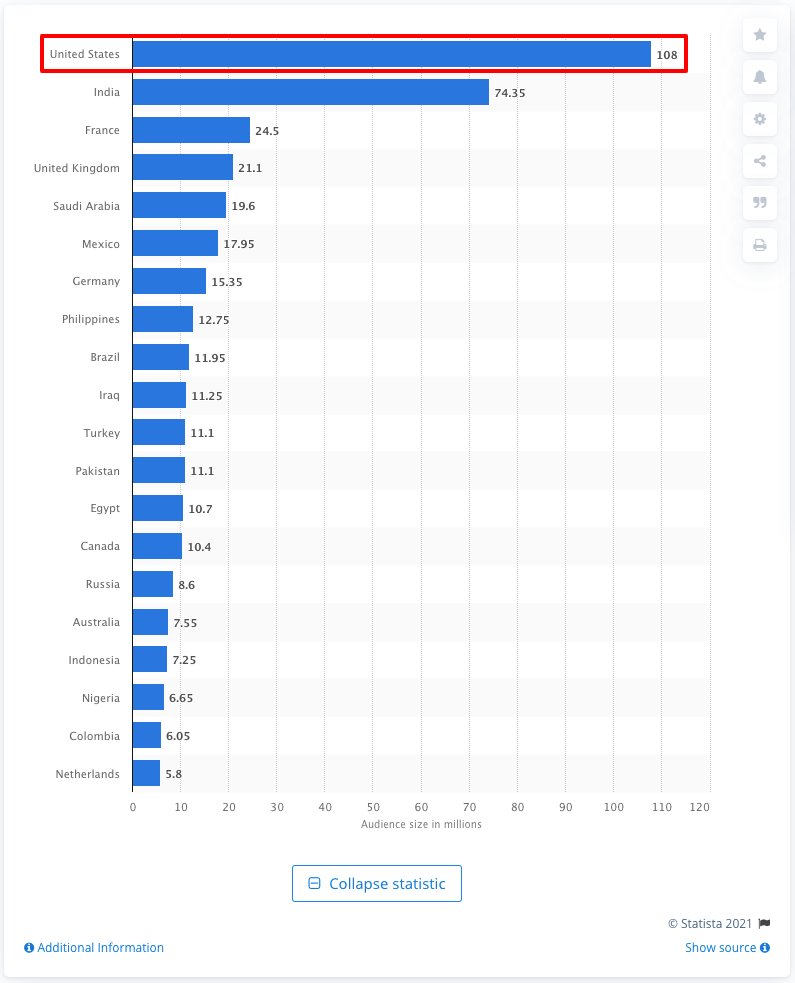 As social networks go, Snapchat's audience isn't the largest.
In fact, it's not even in the top ten.
However, size isn't everything.
Demographics are important, too – and Snapchat certainly appeals to a group of users who are attractive to affiliate marketers.
Snapchat's audience skews younger than most social platforms, with more than three-quarters of 13 to 34-year-olds in the US using it.
Given that Generation Z and Millennials have a combined direct spending power of over $1 trillion, this base is tough to ignore.
What's more, its users are highly engaged.
According to Snapchat's own statistics, 265 million people use it daily, with the average user opening the app 30 times a day.
Why do they keep on coming back?
Because, unlike some platforms I could name, people seem to actually enjoy using Snapchat!
(Or at least, they do if a study commissioned by Snapchat is to be believed.)
Whereas people use words like "anxious", "isolated", and "overwhelmed" to describe the experience of using Facebook and Twitter, Snapchat makes them feel "silly", "creative", "adventurous", and lots of other positive adjectives.
Importantly, Snapchatters don't just spend their time idly browsing video content – they're ready to spend, too.
Compared to the average person, Snapchat users are a staggering 60% more likely to make impulse purchases.
That makes Snapchat marketing a pretty compelling proposition for affiliates.
What Is Snapchat Affiliate Marketing?
As you know, being an affiliate marketer is all about earning commission through referrals.
In practical terms, that means encouraging customers to click affiliate links to the products you're promoting.
That's where things normally get a little difficult for affiliates, because most social media platforms place limitations on the inclusion of these links.
But Snapchat isn't one of them.
Instead, it allows you to place direct affiliate links within anything you post.
And you don't even need to reach a certain follower count to do it.
That means Snapchat is actually a fantastic platform for running affiliate marketing campaigns.
There are three ways to add affiliate links on Snapchat organically (i.e. without running Snapchat ads – more on them later):
In snaps sent to your followers
In Snapchat Stories
In one-on-one chats
It's easy to do. You just need to click the "link" button, search for your chosen URL online, then click again to include it.
Now, if you're prepared to ignore my irrelevant imagery, let me guide you through how this looks in practice for a regular snap post…
For your Snapchat Story…
And for one-on-one conversations…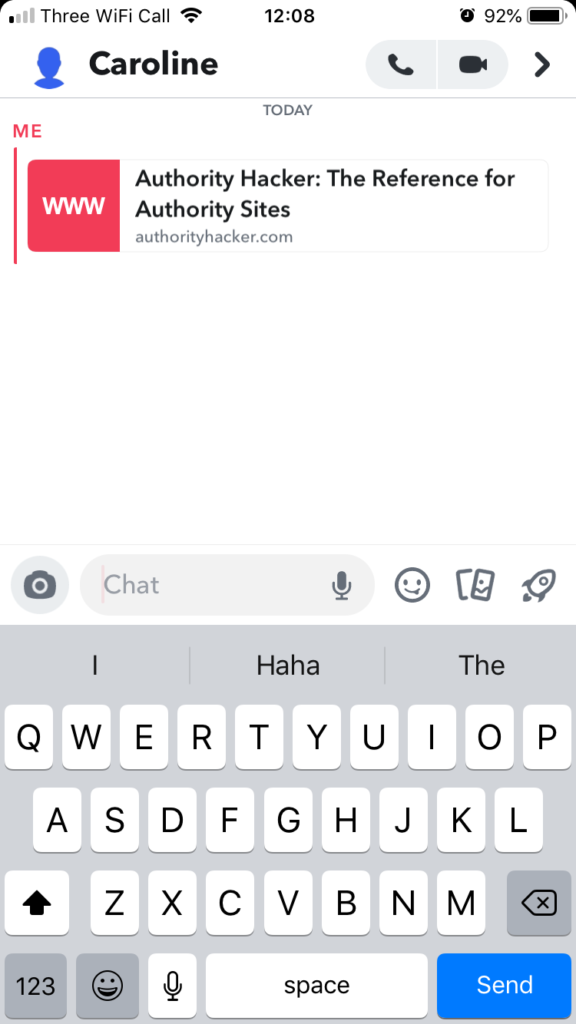 All those different methods give you a lot of potential ways to get in front of customers.
You can promote links at scale through regular posts and stories, or take a more personal approach through individual direct messaging.
That makes it a lot more diverse than platforms like Clubhouse, Instagram, and TikTok, which place a bunch of limitations on the types of links you use, and how they can be added.
How to Use Snapchat for Affiliate Marketing
Okay, so it's clear that Snapchat can be a viable option for affiliate marketers.
Now, here are some tips for actually making it work.
Grow Your Snapchat Following
Once you create a Snapchat account, it's time to start building a following.
This is actually a little trickier than on some social media platforms, because Snapchat feels like a very personal place.
However, it's not impossible to grow a big audience – after all, Kylie Jenner has 36.5 million followers!
Fortunately, you don't need to be a Kardashian-Jenner to build a following on Snapchat (although it definitely helps).
To get started with growing your following, simply add all your existing connections with this three-step process:
Head to your profile page
Hit "Add friends"
Select "All contacts"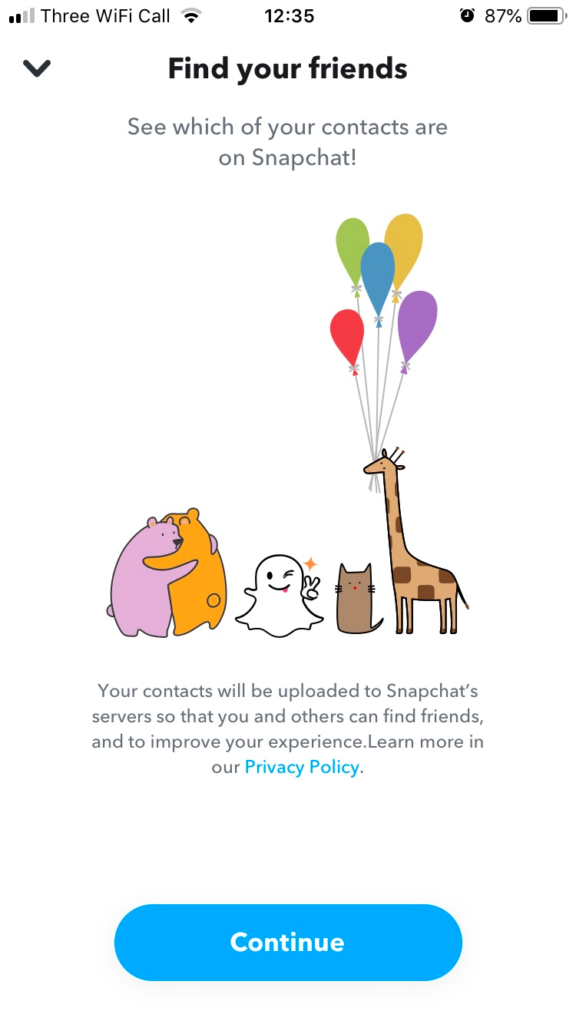 Hopefully, that's already netted you a few dozen followers – or maybe a lot more – in the form of friends, family, and colleagues.
Now it's time to cast the net a little wider by leveraging your presence on other social networks.
Gary Vaynerchuk, never one to miss out on an opportunity for self-promotion, has been a big advocate of this approach.
As you can see here, when he was pushing the platform in a big way, he'd regularly encourage his millions-strong Twitter following to head over to Snapchat and follow him there, too.
Next, get the people in your email list onboard too.
Here's a couple tips to make this work for you:
Simply tell people to search for your username on Snapchat
Include your Snapchat QR code in emails, making it quick and easy for potential followers to find you
Still not seeing a lot of growth?
Get proactive by offering users an incentive – something that gives them a clear reason to follow you.
If your margins allow it, you might want to offer discount codes to new followers.
Or maybe you need to talk up the value they'll get from following you, like access to exclusive deals, new products, or unique content.
Use Augmented Reality
Snapchat users love augmented reality (AR) – that is, overlaying real-world settings with virtual objects, text, graphics, and other enhancements.
On average, more than 180 million Snapchat users – or approximately half of the total user base – engaged with AR content every day in Q2 2020.
By integrating AR elements in your own snaps and stories, you can drive engagement from your audience.
Lots of brands are already doing this by creating AR lenses, like this Easter-themed effort from supermarket chain Lidl: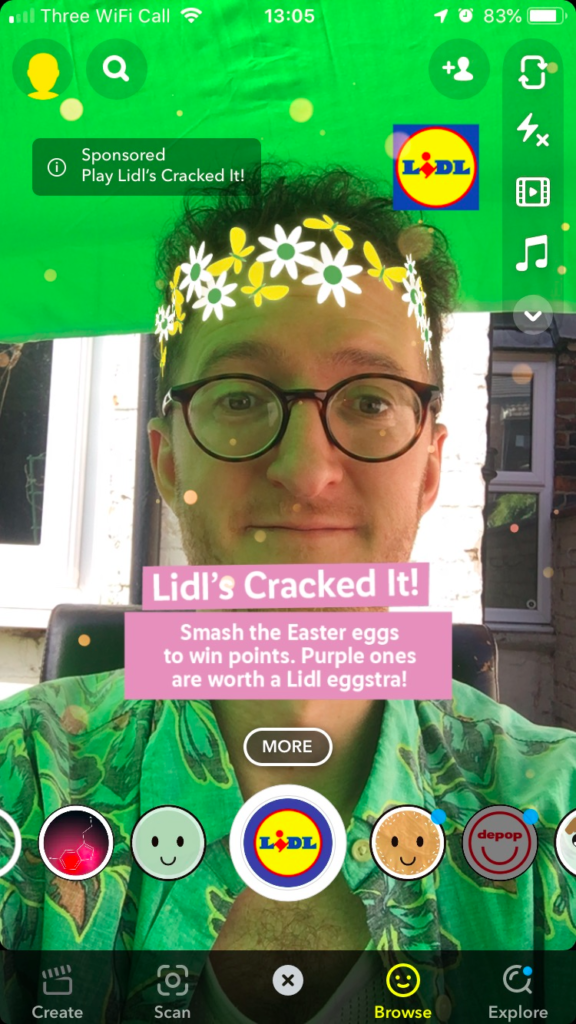 But you don't need to do anything so complex as making your own Snapchat Lens.
You could simply incorporate popular lenses within your snaps to create a more familiar, engaging experience.
It works, because it's giving users the content they love.
Integrate High-Quality Stock Video
Product shots are only going to get you so far.
Your customers on Snapchat want to see high-quality visual content – and that includes video.
Industry data backs this up. According to our affiliate marketing statistics page, 64% of consumers prefer videos when interacting with content.
But what if you're not a videographer?
Or what if you don't have time to record and edit a bunch of video footage?
Fortunately, there are some great resources that can do a lot of the legwork for you.
I'm talking about sites that offer substantial banks of high-quality, rights-free stock video.
Some of my favorites include:
Life of Vids
Pexels
Pixabay
Pond5
Videvo
That way, you don't need to worry about creating the content yourself, which gives you more bandwidth to focus on the messaging.
Keep CTAs Short & Sweet
Speaking of messaging, aim to keep your copy simple and concise.
Snapchat definitely isn't the place for bombarding people with tons of detail.
Instead, speak directly to your customers, referencing demographic information like:
Additionally, make it crystal clear what they'll get from clicking your affiliate link.
If you're linking to a physical product, use a simple call to action like "buy now".
If it's something more abstract, like a service, describe the benefit they'll get from engaging with your campaign.
Invest In Ads
As we've discussed in other posts on this topic, running social ads just isn't an option for a lot of affiliates.
The CPA is often simply too high, which cuts into your margins.
However, advertising on Snapchat might be a realistic proposition for your affiliate business.
Why?
Because Snapchat ads are a lot cheaper than most other social networks.
As a guide, one three-day test with a budget of $759.04 achieved a CPM (or cost per 1,000 impressions) of just over $2.40.
Compare that to the high – and ever-growing – average CPM on Facebook and you'll soon understand how much value that represents.
That potentially makes advertising on Snapchat a viable proposition for a lot of affiliates.
And if you can afford to invest in advertising, you probably should.
As with any platform, running Snap ads will get your marketing message in front of a wider base of potential customers.
What's more, running multiple ad sets and campaigns allows you to target different customers with different video and copy combinations.
That means more eyes on your content and more clicks on your affiliate network links.
Examples of Affiliate Marketing on Snapchat
Despite the potential it offers, Snapchat is still pretty underutilized from an affiliate marketing perspective.
However, there are some noteworthy success stories.
One good example comes from the team at Snapvertising, who managed to generate over $500,000 in profit from four main Snapchat affiliate marketing campaigns over a six-month period.
Their video ad campaigns were all about generating leads for debt-relief services – not the type of simple, spontaneous purchase you'd typically associate with a platform like Snapchat.
However, the marketing messaging really struck a chord with Snapchat's young user base.
Why did it work so well?
Partly because it spoke directly to a specific demographic.
It also demonstrated how the benefits of a relatively complex service can be spelled out in simple terms through a short video ad.
Pros & Cons of Snapchat Affiliate Marketing
There's a lot of information to digest in this article, so I've weighed up the platform's key strengths and weaknesses here:
Pros
Snapchat has a highly engaged audience that accesses the platform multiple times per day
Snapchat users are young and have a lot of buying power, making them an attractive audience for affiliates
There are multiple ways to incorporate links, allowing for a varied strategy
Snapchat doesn't force you to mask links, or direct users to a landing page or article
Ad costs are cheaper than a lot of other social media platforms, giving you more opportunity to drive traffic to affiliate products
Cons
If your customers skew older, there's a good chance they're not on Snapchat
It's no longer seen as the "coolest" platform – that mantle has been stolen by the likes TikTok and Clubhouse
Interest in the app has declined substantially in recent years
Content on Snapchat is short (typically around the 10-second mark), which isn't ideal for positioning more complex products
Should You Start Affiliate Marketing on Snapchat?
Few things in life are black and white – more often they're shades of gray.
And that's definitely the case when it comes to running affiliate campaigns on Snapchat.
The fact is, its suitability as an affiliate platform is extremely dependent on your brand and audience.
If your customers are young and your products are simple enough to position in a bitesize content format, it could be a great fit with your wider marketing strategy.
What's more, the comparatively low cost of Snapchat ads allows you to scale your campaign and broaden your reach (provided your margins are high enough).
But then we come to the downsides.
Like, what if you have an older audience?
Or what if your products require complex messaging that can't be effectively distilled into 10-second videos?
Or what if your customers are based in a country where Snapchat usage is pretty low?
After all, remember a sizable chunk of the brand's user base is in the US.
Penetration is far lower in countries like Germany and the Philippines, which might be important territories for the brands you work with.
The best thing I can say in Snapchat's favor is that you definitely shouldn't rule it out – provided it's a good fit for your audience.
But there are definitely easier options out there for affiliate marketers.
Learn about some of those tactics by signing up for our FREE training on building highly profitable authority sites.