Alibaba has been one of the most disruptive forces in the history of e-commerce.
Outside maybe the Dotcom crash.
Businesses all over the world now had access to thousands of Chinese manufacturers and wholesalers.
All via a single website.
So it made sense for Jack Ma to look at connecting the consumer market directly to those same suppliers in China.
And that's exactly why AliExpress came to be.
Now it's time for us to take a look at their efforts in the arena of affiliate marketing.
Basically, are affiliates making money promoting AliExpress?
AliExpress Affiliate Program Review
Let's take a look at the TLDR version of this article – we know you love this kind of stuff.
Pros
AliExpress is a great option for both affiliates and drop shippers
You can create deep links to products
Millions of products available at any one timeo
AliExpress ships worldwide to almost 200 countries… slowly
The commission rate on some items is actually higher than Amazon
3x longer cookie duration than Amazon
Far lower prices on products than pretty much any other source
AliExpress is basically a high-quality version of Wish

Cons
Shipping timeframes are nuts – often several weeks
Low-quality products exist in abundance
Affiliate support appears to be sorely lacking
In-house affiliate reporting is "meh"
Large, unexplained "Anti-Spam" deductions from affiliate accounts
The in-house affiliate program is completely broken
Unpredictable commission rates
URL: AliExpress affiliate program
Commission: Up to 50% (4% average)
Payment schedule: Depends on the network
Payment threshold: Depends on the network
Cookie duration: Up to 3 days
About AliExpress
Launched in 2010, AliExpress was a truly novel ideal.
Now the average person could order small quantities of goods directly from Chinese companies, bypassing the middleman.
And businesses in China were able to do business with a vast new market in the West.
Basically, Wish only exists because AliExpress does.
But its arrival also opened up a whole new world of opportunity for drop shippers.
Now you could set up an online store, feature products from AliExpress, and then let them do all the hard work.
What we want to focus on here however is their affiliate program.
Because you can also pocket affiliate commissions by simply linking to products on AliExpress without ever setting up a store.
But is their affiliate program worthwhile?
What products can you promote?
Knowing what AliExpress actually sells is an important place for any affiliate marketer to start their research.
And this is where AliExpress kinda separates itself from the herd.
The copycat nature of Chinese manufacturing means that you'll find products on AliExpress that you could never hope to find on in the Amazon Associates program.
There's also the tiny detail that their "catalog" contains 100 million AliExpress products from more than 100,000 suppliers, wholesalers, and manufacturers.
Which is also a lot more than Amazon Associates get to work with.
Let's take a look at what categories these products are divided into:
| | | |
| --- | --- | --- |
| Women's Fashion | Men's Fashion | Toys, Kids, Babies |
| Computer, Office & Security | Consumer Electronics | Jewelry & Watches |
| Home, Pet & Appliances | Bags & Shoes | Phones & Telecomms |
| Home Improvement & Tools | Automobiles & Motorcycles | Beauty, Health & Hair |
It's worth mentioning though that these are just the top-level categories for the menu system of the AliExpress website.
But they branch out from there into sub-categories.
And this is true for each of their main product categories.
So if you open up 'Home, Pet & Appliances', that contains 10 entire sub-categories:
These range from art & scrapbook supplies to office furniture – a vast product selection that ships to hundreds of countries.
And with new products coming online every month.
Enough to keep any "review" site, in almost any niche, busy for years.
You'll have to dig down a little further to find the exact products you're looking for.
Especially those really niche items that you won't find on Amazon.
Hint: Many of these are best suited to more "adult" blogs.
Does AliExpress have products you can sell to your niche audience?
The answer is almost invariably, "Yes."
But aren't these all no-name brands?
Sure.
The thing is they're usually manufactured by the same companies responsible for name brand products.
Often the only real difference is what the sticker says and that the source materials cost a little less.
That's why the $120 shirt you're so proud of really only cost $5 more than the $10 shirt you wouldn't be caught dead in.
How does the AliExpress affiliate program work?
I'd suggest you sit down for this part because there's some turbulence ahead.
The AliExpress affiliate program is available both in-house and from a number of different affiliate networks.
So the full list is as follows:
Let's start with the in-house AliExpress affiliate program, AKA "AliExpress Portals".
Trying to sign up for it was a real pain in the ass.
You get redirected to different domains at different stages of the application process, including a .ru domain for some odd reason.
Then once you get over the fact that it's not just an elaborate phishing scheme you come to an impassable wall.
You're asked for your email so they can send you a verification code to complete your AliExpress affiliate application:
Except none of it works.
In fact, the 'Next' button doesn't seem to have any functionality attached to it at all.
It's as useless as a paper condom.
The AliExpress Portals site is also littered with grammatical errors and spelling mistakes.
Some of them resulted in entirely new words:

Ne-cess-as-ity
I laughed for about 3 minutes straight at this…because I'm a child.
Basically, if the AliExpress affiliate program wasn't a known quantity there's no way in hell I'd sign up with them.
Fortunately, you have the option of signing up with AliExpress through either CJ Affiliate, Awin, or FlexOffers.
Which is just as well considering the self-hosted AliExpress affiliate program is utterly broken.
The Amazon Associates sign-up process is an absolute dream in comparison to what I experienced here.
Creatives
If you're familiar with any of the above affiliate networks, then you'll know what kind of creatives to expect from them – a mixture of text links and banner ads.
Here's an example:
The real shame here is that the AliExpress program apparently has a "SiteStripe" feature that allows you to link directly to any AliExpress product.
And, yes – this works just like the Amazon Associates Program feature.
But you can't access it except via their in-house tool.
I wonder where AliExpress got the idea from?
Anyways, you'll have lots of ways to include their links or ads on your blog.
Including deep links to specific products.
One of the real benefits of dealing with modern affiliate networks is access to great tools.
Affiliate payments
Now, this is where things get messy.
If by some miracle, you're actually able to sign up for the in-house AliExpress affiliate program their affiliate payment terms are 'Net 60'.
This means having to wait at least 2 months to get paid for an item you sell today.
FlexOffers offers the same payment terms.
CJ Affiliate, on the other hand, pays 'Net 30' so they would appear to be your best option.
Except there's not a whole lot of activity around their affiliate program there:
Awin is in even worse shape here because it can take up to 100 days for affiliates to get paid:
But, the AliExpress affiliate program via Awin does have a healthy conversion rate.
That might be because Awin has a dedicated manager working on the AliExpress affiliate account.
Or there might be another reason that clicks convert better with Awin.
Awin also offers a better commission rate than other networks.
And obviously, the payment options available to you will vary from network to network.
So, do take all of this into consideration before you apply to the AliExpress affiliate program.
Cookies
Cookie duration can be one of the biggest deal-breakers with any affiliate program – AliExpress is no different.
FlexOffers cookies are session-based so your affiliate link "expires" once a reader closes their browser.
Cookies that expire in 24-hours are bad enough.
But this only happens if you sign up with the AliExpress in-house program or you're promoting AliExpress via FlexOffers.
Otherwise, the attribution period for both Commission Junction and Awin is 3 days.
Reading the fine print always helps, folks.
Commission rates
Thankfully the commission rate you receive is pretty consistent across the board.
When it comes to the affiliate networks, at least.
CJ pays you 4% across the board on all sales.
Awin pays up to 7% of sales, depending on the product category:
And then finally, FlexOffers pays a generous 4.5%.
This is actually a change for them – they normally pay lower commission rates than any other network for the exact same affiliate programs.
The AliExpress in-house affiliate program allegedly pays up to 50% commission on sales.
But, from what we can gather, their higher commission rates only apply to their 'Hot Products'
And even then it's only for the really expensive items in that category.
So, you're not going to get 50% of a $10 sale made through your affiliate links.
You'll probably get more like 3%.
Long story short, Awin offers a higher commission rate and conversion rate for the AliExpress affiliate program than any other network.
Which gives them a "Win" here.
AliExpress Affiliate Program Reviews
So now you know what I think of their affiliate program.
But what about getting some feedback from other sources?
And this is where I found something really, really interesting.
AliExpress recently introduced something called, "Anti-Spam Commission Deductions".
Now, this is obviously their way of dealing with potentially fraudulent transactions generated through affiliate links.
This is nothing new in the world of affiliate programs or affiliate marketing. 
But what is worrying is the amounts they're deducting.
This is often almost 50% of an affiliate's total pending balance.
And what's worse is they don't appear to be getting answers from AliExpress support: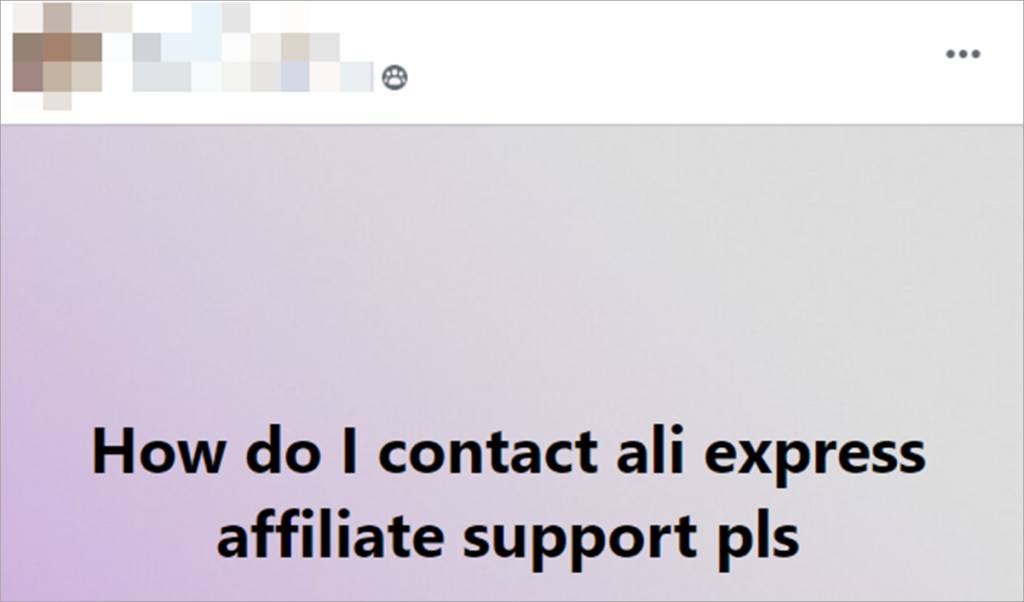 At all.
So you could make money…only to watch it vanish without explanation.
A growing number of unhappy AliExpress affiliates are setting up WhatsApp groups to co-ordinate their complaints.
Which isn't something you'll find happening with good affiliate programs.
Such as the Amazon affiliate program.
Although a good 75% of the complaints are probably coming from affiliates who are actually guilty of generating fraudulent sales.
So bear that in mind.
But overall the AliExpress affiliate program seems to offer almost no actual support for affiliates.
And, try as I might, it was difficult to find anyone saying anything truly positive about this particular affiliate marketing program.
Summary
And that's a wrap on our AliExpress affiliate program review.
So…should you promote AliExpress?
Or, the question you're probably asking, "How does it compare to the Amazon Associates program?"
Honestly, it doesn't.
Being an Amazon affiliate is a much better deal for the average website owner.
The AliExpress in-house program is a mess and the only affiliate network that seems to make AliExpress "work" is Awin.
Plus, the only real benefit for affiliates in promoting AliExpress is if they need more obscure products.
Like in the adult niche, for example.
Don't make your affiliate journey more difficult than it needs to be by choosing the wrong affiliate programs.
Which is the kind of stuff we cover in our Free training on the subject.
You'll learn the basics of setting up your first profitable niche site.
Eventually earning enough money per month to replace a day job.
Or just get dumped into a retirement fund.
You're a single click away from taking a different path through life.