Let's be honest — private jet affiliate programs are targeted at a pretty niche audience.
After all, you're not promoting a $2 per month VPN or a $50 protein powder pack here. A private jet charter service can run to tens of thousands of dollars for a single transaction.
That means, as a private jet charter affiliate, you'll be exclusively targeting high-net worth individuals, big businesses, government agencies… in other words, the people with all the money. There aren't that many of them around.
But don't let that put you off, because there's plenty of upside to promoting air charter operations. In particular, the financial rewards can be significant.
Think you've got what it takes to thrive as a jet affiliate? Then stow your metaphorical baggage in the overhead compartment and strap yourself in as we take a look at the seven best affiliate programs in the private jet niche right now:
7 Best Private Jet Affiliate Programs
Vida Jets
Privatejetfinder.com
Fast Private Jet
Villiers
iJET
Nohara Jet
Private Jet Card Comparisons
Vida Jets
Let me start by getting one thing straight: despite the undoubtedly high-end nature of the luxury travel market, for some reason pretty much every website in the niche looks like it's about 20 years old.
However, I'm sure outdated visuals don't speak to the quality service on offer.
So ignore Vida Jets' slightly uninspiring website, because there's no doubting its credentials among private aircraft operators.
It boasts a fleet of 6,000 jets and flies to more than 5,000 worldwide destinations. Over the years, the Vida Jets team has accommodated almost 13,000 happy flyers, so it's definitely the real deal.
Not only that, but it has a social network following of more than 100,000 people, so it's not short on brand awareness. That's good news, because it makes the Vida Jets affiliate program easier to promote.
URL: Vida Jets affiliate program
Commission rate: Unknown
Cookie duration: Unknown
Privatejetfinder.com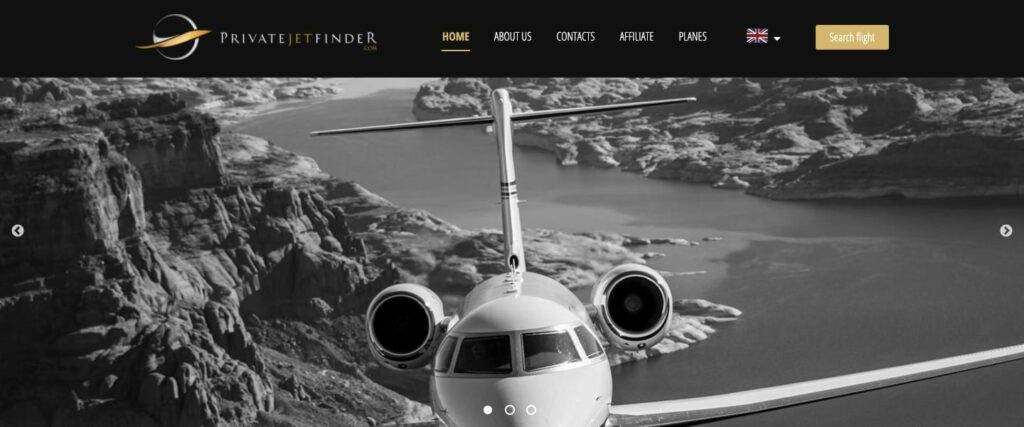 What Privatejetfinder.com lacks in imaginative branding, it more than makes up for with its exceptional service and the sheer scale of its offering.
The company reaches more than 170 countries and over 5,000 airports worldwide, and boasts a network of 1,000 qualified flight operators.
All of which sounds pretty impressive, but what about the Privatejetfinder.com affiliate program?
Well, despite the fact that it somewhat misleadingly promises you can earn commissions "without any effort", it's a pretty strong offering. Jet affiliates earn:
€150 for a flight sold with a light jet
€200 for a mid-size jet
€300 for a large jet
On top of those healthy commissions, you can also access all the banners and widgets you need to incorporate your affiliate link and drive traffic.
URL: Privatejetfinder.com affiliate program
Commission rate: €150 – €300
Cookie duration: Unknown
Fast Private Jet
Fast Private Jet (or FPJ for short) might have a stupid name, but it claims to offer the best quality service in the private jet niche. And given that I'm far too poor to ever lease a private jet myself, I'm in no position to argue.
The company offers private jet charters across seven different aircraft categories, namely:
Very light jets: Seat 4 – 5 passengers, with a maximum flight range of 3 hours
Light jets: Boast an average capacity of 6 – 8 passengers, making them a cost-effective option for families and small groups
Midsize jets: The most popular jets chartered worldwide, they feature a stand-up cabin that gives them the best price to comfort ratio
Super midsize private jets: Have larger cabins and greater range than their smaller peers
Heavy jets: Recommended for larger groups of up to 13 passengers and people travelling with a lot of luggage, these jets also include amenities like Wi-F and full in-flight service
Ultra long-range private jets: Capable of flying up to 14 hours non-stop
VIP airliners: The all-in best aircraft, with the longest range, most comfort, and highest capacity
Presumably, the Fast Private Jet affiliate program pays higher commissions for fancier aircraft, but it doesn't actually set out its terms anywhere, so you'll have to ask!
URL: Fast Private Jet affiliate program
Commission rate: Unknown
Cookie duration: Unknown
Villiers
Villiers potentially reaches the most airports of any jet charter service, flying to more than 40,000 worldwide destinations via its network of more than 10,000 private aircraft.
If you think that sounds good, its private jet charter affiliate program will sound even better.
Jet affiliates earn an uncapped 30% profit share on every completed booking, plus recurring commissions on any future bookings made by referred clients.
With charters costing hundreds or thousands of dollars per seat, this definitely ticks the "high paying affiliate programs" box. It's easy to see why top affiliates are earning tens of thousands of dollars a month through this affiliate program.
There's just one small downside — to apply for the program, you'll have to pay a refundable deposit of $15, repaid with your first commission payment (or if your application is rejected).
Normally, we'd advise against joining affiliate programs that demand any kind of upfront payment, but Villiers it definitely legit, and the rewards here arguably make it worthwhile.
URL: Villiers affiliate program
Commission rate: 30% per booking
Cookie duration: 365 days
iJET
Next up is iJET Charter, which is something of an anomaly on this list.
As well as doing the whole jet charter thing, it has a fleet of over 20,000 aircraft for different requirements and scenarios, including air ambulances, helicopters, and cargo aircraft. None of which sound quite so luxurious.
Its affiliate program pays a recurring fee for every single booking made by a referred client, so we're potentially talking about unlimited commissions here if you manage to reach the right customer.
Commission rate: Unknown
Cookie duration: Unknown
Nohara Jet
With a network of more than 2,000 affiliates, Nohara Jet has already built up quite a name in the affiliate marketing community.
No doubt part of that is down to the range of support it provides, including all the promotional banners and widgets you'll need to generate client requests via your blog or social media marketing activity.
And no doubt part of that is down to its commission structure, which offers plenty of money-making potential. For reasons that aren't entirely clear, Nohara explains its commissions using what it calls "VPs"; one VP is worth €1. It works like this:
€10,000 in sales = 100 VP
€100,000 = 1,000 VP
€1 million = 10,000 VP
€10 million = 100,000 VP
As the mathematicians among you will have realized, that's a convoluted way of saying you earn 1% per sale.
Ordinarily that would be way too low for us to include on a roundup of high paying affiliate programs. But when the potential payouts are this big, it's potentially worth the effort.
URL: Nohara Jet affiliate program
Commission rate: 1% per sale
Cookie duration: Unknown
Private Jet Card Comparisons
Private Jet Card Comparisons is, as the name suggests, a comparison service for private jet cards.
"What's a jet card?" I hear you ask. Well, it's basically a debit card you can use to pre-book charter flights at a contracted hourly rate, with guaranteed availability.
A jet card typically refers to debit card-style private jet travel programs that enable you to prepay for flights. You can then book at a contracted hourly rate with guaranteed availability. They give you the flexibility to book at short notice and mean you don't have to shop around for the best deal every time.
Those little cards are worth big money, typically being sold in increments of dollars (from $15,000) or flight hours (say, 25 hours). It's complicated stuff, but Private Jet Card Comparisons gives you the tools to compare more than 250 private jet card programs in one place.
Of course, it charges for the privilege, which is how it (and you) make money.
Private Jet Card Comparisons pays a flat $50 commission for each new subscription referred, plus a further $50 if they renew for a second year, and a final $50 if they extend for a third year. By my math, that's a total payout of up to $150 per referral.
URL: Private Jet Card Comparisons affiliate program
Commission rate: $50 per new subscription, plus repeat commissions
Cookie duration: Unknown
Conclusion: Is Private Jet Charter the Right Affiliate Niche for You?
Clearly, this isn't the easiest niche out there. If you want a low-effort affiliate market, you're much better promoting cheap Amazon products or VPNs.
However, there's certainly a lot of money to be made in the travel niche. In fact, according to our affiliate marketing statistics page, the average travel website makes nearly $14,000 per month.
While we're talking high commission rates here, you'll still need a lot of expertise to grow traffic to your website in the first place. And because the audience is so small, it's tough to reach the right people.
But don't worry — your old pals at AuthorityHacker won't force you to go it alone!
In our free training, we'll give you all the tools you need to build a high-quality, high-converting site in any niche, and private jet chartering is no exception.
See you there!