Homeschool affiliate programs are your opportunity to earn money while (hopefully) contributing to the education of homeschooled kids everywhere.
As far as affiliate strategies go, starting a homeschooling blog has plenty of upside.
For one thing, you get to feel like you're making a positive difference to the world by supporting the homeschool community.
And for another, there's a huge target audience waiting for you. In the US, national homeschooling rates grew rapidly from 1999 to 2012 to around 3.3% of all students.
But there's been a huge surge in the number of homeschooling families since the start of the pandemic, with 11.1% of households with school-age children homeschooling their kids as of the Fall 2020 term.
To add to this, our affiliate marketing statistics show that education is the most profitable affiliate niche. The average affiliate marketer in this space earns more than $15,500 per month.
In other words, there's never been a better chance to launch a homeschool blog to promote educational products and activities. With that in mind, let's take a look at the best homeschool affiliate programs out there right now.
Homeschool Affiliate Programs
7Sisters
All About Learning Press
The HomeScholar
Homeschool Tracker
ArgoPrep
Highlights for Children
Homer
Hooked on Phonics
TestingMom.com
The Preschool Box
Living Life and Learning
The Crafty Classroom
Alpha Omega Publications
Evan-Moor Educational Publishers
7 Secrets
To Make Affiliate Sites 83% More Successful!
Join our FREE Training and learn how to:
Find profitable, hidden niches
Steal your competitor's best keywords
Get links without paying a dime
Build fast sites that rank quickly
7Sisters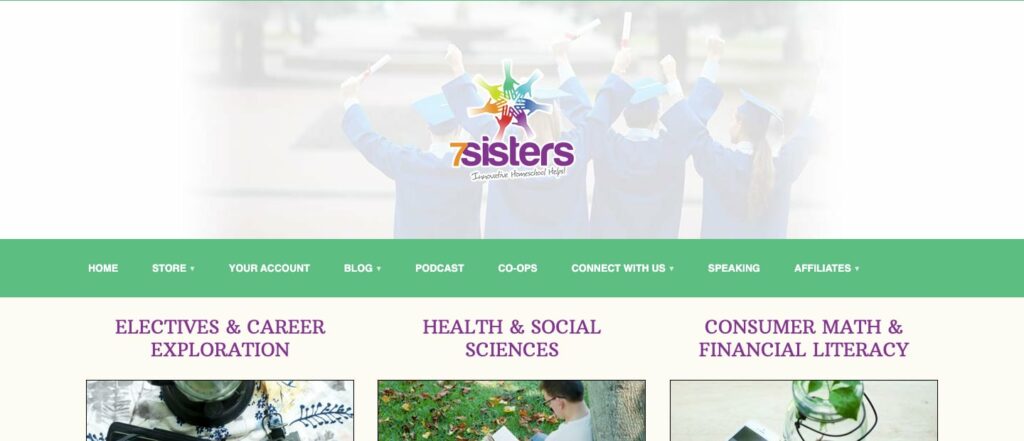 Somewhat confusingly, 7Sisters was founded by six moms, only two of whom are actually sisters. The seventh sister, metaphorically, could be you (provided you join their affiliate program).
Less confusingly, 7Sisters is an online business that sells homeschool curriculum PDFs that it promises are totally free of "busywork".
Its curriculums — or should that be curricula? Maybe I need to be homeschooled too — are designed to teach kids about the social sciences, math, literature, English, and much more besides.
Okay, so let's take a look at the 7Sisters affiliate program. Each time someone clicks an affiliate link or button on your site and buys one (or more) of the brand's learning resources, you'll earn a 40% commission, up to a maximum of $500 per month.
There's a 90-day cookie window too, which means plenty of time to monetize your traffic.
Commission rate: 40% per sale
Cookie duration: 90 days
All About Learning Press
All About Learning Press aims to help students of all ages become fluent readers and expert spellers.
Its scripted, open-and-go programs are Packed with engaging educational activities and games designed to keep kids motivated and looking forward to their next lesson.
Joining the All About Learning Press affiliate program means you'll earn money by promoting its various reading and writing-themed educational kits.
For every sale you refer within the 180-day cookie window — the joint-longest of all the homeschool affiliate programs we've seen — and you'll pick up a 15% commission.
To help drive sales, affiliates get access to over 200 ready-to-embed banners and links, while the affiliate dashboard provides real-time tracking on all traffic and earnings.
Commission rate: 15% per sale
Cookie duration: 180 days
Nest Learning
Nest Learning started out more than two decades ago as the creator and distributor of 36 animated stories from the Old and New Testaments.
Fast forward to the current day and the brand has branched out beyond religion into the word of mathematics.
Now, it enables Christians (and non-Christians) to improve their math homeschooling experience by offering premium homeschool curriculum classroom resources, teacher resources, and school supplies at discount prices.
Nest's catalog boasts more than 3,000 math-themed homeschooling products, with free shipping available on orders of $99+.
Its affiliate program pays a commission of 12% per sale, as well as running regular affiliate promotions and incentives. You'll also get a dedicated affiliate manager to help maximize performance.
Commission rate: 12% per sale
Cookie duration: 30 days
Homeschool Tracker
Homeschool Tracker's whole "thing" is about helping homeschool teachers and students save time and stay organized.
Its online tools, which aim to simplify record-keeping, planning, and reporting, have been used and trusted by thousands of homeschoolers for more than 15 years now.
Parents can use Homeschool Tracker either to help them meet the mandatory reporting requirements of their local authorities, or just to keep an up-to-date log of their child's homeschooling products.
Its tools are compatible with PC, Mac, laptop, tablet… basically with any device that can connect to the internet.
Rather than selling downloadable assets for a one-off payment, Homeschool Tracker uses a subscription-based model, with a choice of three packages:
$8 a month
$65 a year
$119 for two years
Whichever option you promote, you'll earn a commission of 10% per sale, provided your referrals convert within the 45-day cookie window.
Commission rate: 10% per sale
Cookie duration: 45 days
ArgoPrep
ArgoPrep, a leading supplier of educational technology based out of New York, sells award-winning workbooks and online courses aimed at improving students' math and reading capabilities.
Trusted by more than 500,000 parents, students, and teachers, its products are aimed at grades K – 8 (equivalent to kids' ages 5 – 14, for those not in the know).
Designed to be simple, clear, and detailed, its various educational resources come with video explanations for every question, along with workbooks, worksheets, and practice quizzes.
There's plenty of money to be made through the ArgoPrep affiliate program, with the average order value of its online test prep courses standing at $120.
As an ArgoPrep affiliate, you'll earn 30% on subscription and 10% on workbooks, with a generous cookie duration of 180 days giving you lots of time to turn your blog traffic into cash!
Commission rate: 30%-50% on subscription and 10% on workbooks
Cookie duration: 180 days
Highlights for Children
Highlights for Children describes itself as a "beloved global media brand", which sounds a little braggy to me. But they seem to be pretty good at what they do, so I'll cut them some slack.
Dedicated to helping kids aged 0 – 12 become curious and creative learners, this innovative publisher sells a range of popular magazines and offers various digital "experiences", including apps and a podcast. It also sells toys, games, books, and more.
You'll find Highlights for Children on the CJ Affiliate network. Its commissions range from 5% per sale on items in its shop to 10% on its magazines and book clubs.
As with all CJ Affiliate programs, its payout threshold is $50 for direct deposit payments or $100 for checks.
Commission rate: 5% – 10% per sale
Cookie duration: 30 days
Homer
Homer is a personalized learn-to-read program aimed at kids aged 2 – 8. Created by experts, it claims to be capable of increasing early reading scores by 74%, which sounds impressive.
The brand offers more than 1,000 lessons, stories, and games, all of which are designed to make learning to read a generally fun and exciting experience for homeschool students (and hopefully teachers, too).
Homer's affiliate program pays a standard commission of $10 per sale, which is neither awful nor spectacular.
However, those commissions increase significantly for affiliates who drive a high volume of sales. Hit 100 – 499 sales a month and you'll earn $15 per order, and if you surpass 500 sales in a month, you'll pick up $20 a sale.
Commission rate: $10 per sale
Cookie duration: 30 days
Hooked on Phonics
Hooked on Phonics runs an award-winning learn-to-read program that's helped more than five million kids become confident readers.
Based on research and given the seal of approval by the Children's Reading Foundation, it offers a variety of multisensory tools and techniques intended to engage and support visual, auditory, and experience-based learners.
With each lesson lasting about 20 minutes, Hooked on Phonics is perfect for time-poor homeschool parents to transform their little ones into fluent readers. It runs a subscription-based model, as well as selling various homeschool bundles via its online store.
Cool, so how about its affiliate program? Well, you can earn a range of commissions, based on the types of products you promote and the audience you reach.
You'll earn $13 for Canadian subscribers or $20 for US subscribers, while all shop products pay a 10% commission.
Commission rate: $13 – $20 per sale, or 10% on shop purchases
Cookie duration: 30 days
TestingMom.com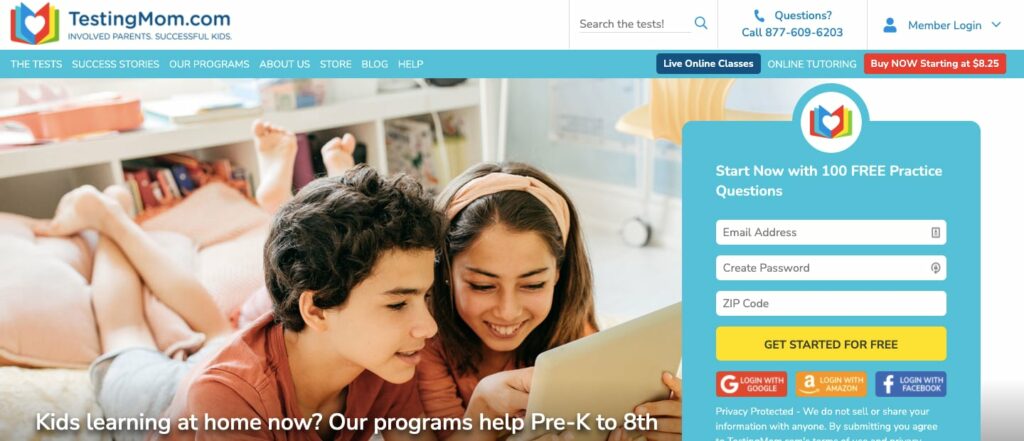 TestingMom.com isn't literally about testing moms. Instead, it runs online courses designed by parents to help other parents teach kids from pre-K to 8th grade develop a passion for learning.
The website features tons of homeschool resources and content, from test prep for private school admissions, to fun skill-building games, and a library of more than 100,000 practice questions.
Its test materials cover all 50 American states. And presumably they're pretty good, because TestingMom has a TrustPilot rating of 4.7 from more than 700 reviews.
Of course, all those resources come at a price. To access them, parents have to sign up for membership, with rates starting at $10.99 per month.
TestingMom has an impressive average order value of more than $80 and pays a commission of 10% on all new memberships, rising to 12% for content websites.
Commission rate: 10% – 12% per sale
Cookie duration: 15 days
The Preschool Box
Subscription boxes are all the rage right now, so it was absolutely inevitable someone would launch one aimed at the homeschool community.
Step forward The Preschool Box! Each of its subscription boxes contains a bunch of fun activities, crafts, and worksheets that parents can either work through with their child, or leave them to their own devices.
Interestingly, each box also focuses on a different set of skills, which helps to stop the whole homeschooling process becoming dull and repetitive.
Subscription prices for The Preschool Box start at $32.95 plus shipping. Its affiliate program pays a flat rate of $5 per sale, which to be honest feels a little on the low side, but at least you're given a generous 90-day cookie window to work with.
Commission rate: $5 per sale
Cookie duration: 90 days
Living Life and Learning
Living Life and Learning is another website run by a homeschool blogger —in this case, Monique Boutsiv.
She's dedicated to helping new homeschooling families find their feet in the sometimes confusing world of at-home learning.
As well as offering lots of informational homeschool resources, Living Life and Learning operates an online store selling engaging and fun activities to aid tuition in math and science.
It also stocks general homeschool bundles including planners, printable exercises, homeschooling questions, and more.
The website's affiliate program pays a very respectable 40% commission on all sales made within a 90-day referral window.
Those are some of the most generous terms of all the affiliate programs we've looked at within the homeschooling niche.
Commission rate: 40% per sale
Cookie duration: 90 days
The Crafty Classroom
Despite its name, there's nothing sneaky about The Crafty Classroom. Instead, it offers simple homeschool planning resources designed to help parents set goals, keep track of curriculum decisions and orders, and teach students to keep an independent weekly calendar.
It also sells a wide range of learning resources designed to improve everything from fine motor skills to knowledge of the alphabet, geography, math, reading, and spelling.
Want to teach writing or science? No worries —you'll find a homeschool curriculum to fit your needs. And because its resources are crafts-based, they can help with artist studies too.
As an affiliate, you'll bag a 20% cut of all sales you refer to The Crafty Classroom, provided they convert within 90 days of clicking your affiliate link.
Commission rate: 20% per sale
Cookie duration: 90 days
Alpha Omega Publications
Alpha Omega Publications (AOP) has been an innovative publisher of Christian educational curriculum materials for grades K-12 for more than 40 years.
Millions of elementary, middle, and high school homeschool parents have relied on AOP's various resources to offer their kids a higher quality education, whether they require remedial assistance, a summer enrichment program, or general distance learning options.
At first glance, the brand's homeschool affiliate program doesn't sound too impressive, with a 4% commission rate and just a 10-day cookie window.
But CJ Affiliate shows it has a 7-day EPC of more than $54, so there's decent money to be made here.
To help drive sales, you'll get access to all the banners, text links, coupons, rebates, and special offers you could ever need, as well as an active affiliate manager to answer any questions.
Commission rate: 4% per sale
Cookie duration: 10 days
Evan-Moor Educational Publishers
Evan-Moor Educational Publishers has been helping kids learn since 1979, specializing in classroom, homeschool, and at-home enrichment materials and resources for children aged 4 – 14 (or pre-K to 8th grade).
Its various educational titles have been used in more than one million US classrooms and over 90 countries, covering subjects as diverse as language, arts, reading, writing, math, science, social studies and the arts.
All Evan-Moor resources are available in both print and digital formats, and are based on the latest best practices and standards in education.
Sign up for the brand's affiliate program and you'll earn a 7% commission on sales inside the 45-day cookie window.
Commission rate: 7% per sale
Cookie duration: 45 days
Conclusion: Are Homeschool Affiliate Programs Right for You?
Okay, so we've looked at 14 of the best homeschool affiliate programs. Now for the important question: should you go all-in and launch your own homeschooling blog to promote some of the products we've described above? Explore our comprehensive step-by-step guide guide on How to Start a Mom Blog.
Well, that obviously depends on your audience and experience. But there's lots to like about the homeschooling niche.
As a parent, it's a massive life choice to tutor your kids from home — you're unlikely to simply change your mind overnight. That gives you a committed (and large) audience to target.
Of course, before you're ready to start promoting any of these affiliate programs, you first need to build your own website and start creating content. And that's where we come in!
Just sign up for our free training and we'll teach you simple steps you need to start a high-converting, high-earning authority site.