Total consumer debt in the United States currently stands at US$13.78 trillion.
$1.3 trillion of that is car loan debt.
There's also US$9 trillion of mortgage debt.
And $1.08 trillion is made up of unpaid credit card bills.
Long story short, credit repair companies are going to be in demand for a long time to come.
And where there's demand, there's money — at least that's been our experience.
It's also why we've been able to generate a better-than-job-replacement income every year for the last decade.
And credit repair is one of those niches where you can make good money while also helping people deal with their financial woes.
The trick is – as always – to have the right affiliate offers to promote.
So here are 10 of the best credit repair affiliate programs we could find for you.
And with the usual curveball thinking you've grown to love Authority Hacker for.
Modest…aren't we?
Let's get to the good stuff.
Credit Repair Affiliate Programs
MyFICO
Lexington Law Credit Repair
Teachable
Capital Bank
National Debt Relief Credit Repair
Experian Credit Repair
Credit Firm Credit Repair
TransUnion
CuraDebt Credit Repair
Identity IQ
MyFICO
The FICO rating is the industry standard when it comes to credit scores.
It's what companies use to decide if you're eligible for a loan.
MyFICO is brought to you by the same people who actually created the FICO score, so you know you're getting the real deal.
But how is a credit score monitoring service relevant to credit repair?
Well, it's the best way to ensure you don't end up with crappy credit in the first place.
And it's also a great way for your audience to monitor their progress as they go about repairing their credit score.
Anyone promoting this program will earn a flat $5 per sale for each referral.
Which isn't exactly stellar considering they charge a monthly fee.
But with that said, this program does have a 12% conversion rate.
Commission: $5 per lead
Cookie duration: 30 days
Lexington Law Credit Repair
A single inaccurate item on your credit report can be the difference between your being approved for a mortgage or denied one.
The problem is that very few people understand how to query and challenge these inaccuracies.
Lexington Law, on the other hand, has the legal background and experience to not only spot these types of issues but also have them corrected or removed.
That alone can have a massive impact on your Fico score.
In an average year, they help their clients remove 10 million negative items in total from the credit reports they're presented with.
Many of which would have had a serious impact on credit scores.
So let's get down to what matters – how much you get paid to promote this credit repair affiliate program.
The good news is that you'll receive a flat $65 per sale for each successful referral.
But the even better news is their claimed 40% conversion rate – that's almost a license to print money.
URL: Lexington Law affiliate program
Commission: $65 per sale
Cookie duration: 30 days
Teachable
Wait, does it feel like a pesky wabbit took the wrong turn left at Albuquerque?
Not quite, folks.
You see, I'd normally try to include a ClickBank credit repair affiliate program or offer around about now because info products tend to convert quite well.
If you can find them.
And on ClickBank, that's becoming that bit more difficult each year.
So let's try to get you ahead of the curve here with Teachable – where a lot of info product creators are now setting up shop.
They're home to dozens of different courses on DIY credit repair, so you're bound to find something to suit your audience.
Most of your competitors haven't thought of sending traffic to Teachable, instead focusing solely on credit repair companies.
That's their loss – some of the credit repair courses on Teachable retail at $199.
So 30% of that is $59.70 in commission for you.
Not bad for a single referral, and at least on par with most ClickBank programs.
URL: Teachable affiliate program
Commission: 30%
Cookie duration: 90 days
Capital Bank

The main reason people have terrible credit scores is they didn't responsibly manage their personal finances.
Basically, they spent like there was no tomorrow, usually maxing out multiple credit cards.
The weird thing is that using a secured credit card – like the OpenSky from Capital Bank – is one of the smartest ways to improve your credit score.
In fact, it should really be step #1 of any credit repair journey.
Basically, you deposit cash in an account that's then used to pay off your card balance.
So that means credit scoring agencies see you paying off your credit card in full, every single month.
Each of those payments contributing brownie points towards your overall FICO score.
And the Open Sky works just like any other credit card, except it can never land you in bankruptcy court.
So how does this offer compare to any other credit repair affiliate program in this roundup?
Well, you'll receive $25 for every successful referral you send their way.
You'll also be one of the very few "credit repair" affiliate marketers promoting secured credit cards to their audience.
That could give you a pretty big competitive advantage.
URL: Capital Bank affiliate program
Commission: $25 per sale
Cookie duration: 30 days
National Debt Relief Credit Repair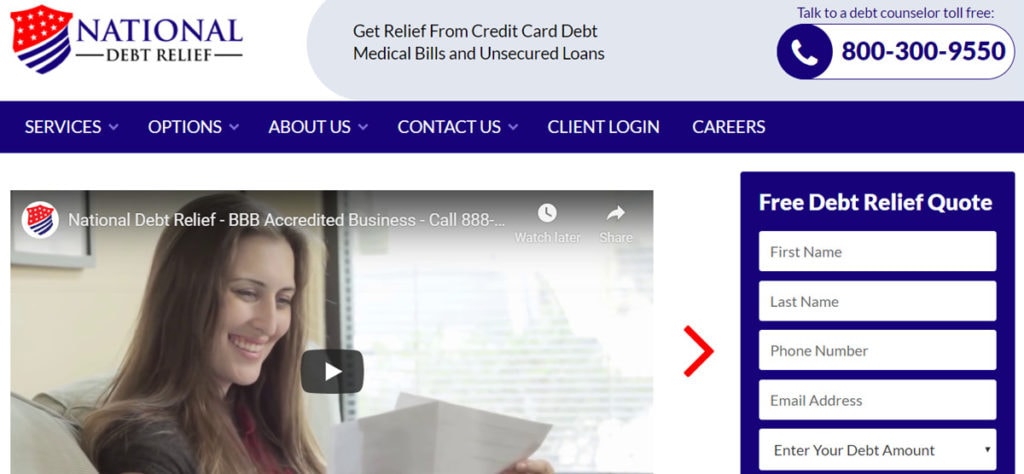 Finding yourself buried under a mountain of debt is overwhelming for most people.
They want to repay their creditors, but simply can't afford to pay them all at the same time.
But the collection calls keep coming.
National Debt Relief is ideal for people who find themselves in situations like this.
They work with you to analyze your current financial situation, they then contact your creditors to renegotiate payments with them.
So you get to repay your debts, but in a way that you can afford.
Although it might not be obvious at first, this credit repair affiliate program offers two ways for you to make bank.
The first is a pretty standard CPL (Cost per Lead) deal where you earn a flat $27.50 for each referral.
But they also have a Pay-per-Call offer, where you get paid a flat $41 for each warm lead you who signs up for their credit repair services.
URL: National Debt Relief affiliate program
Commission: $27.50 per lead
Cookie duration: 60 days
Experian Credit Repair
Experian is one of the leading names in credit reporting and repair, and they're also one of the oldest.
Very few companies can claim a history dating back over a century.
They're also one of the three main agencies lenders refer to when calculating credit scores, including many credit repair/monitoring companies.
So they obviously know a thing or two about that.
But Experian can also assist their customers with correcting negative scoring items on their credit report, as well as monitoring your personal data for identity theft.
And a final perk is 'Experian Boost', which allows you to almost-instantly improve your existing FICO score.
So let's look at what this credit repair affiliate program has in store for its affiliates.
First things first, most of their free trial offers pay $0 in commission, so tread carefully there.
The biggest payouts are to be had promoting 'Experian CreditWorks' which pays a flat $20 per sale.
Apart from that, you should focus on monthly or annual subscriptions to their various credit repair services.
URL: Experian affiliate program
Commission: Up to $20 per sale
Cookie duration: 10 days
Credit Firm Credit Repair
Credit Firm has helped more than 80,000 customers repair their credit scores since they first opened for business in 1997.
Unlike certain other credit repair companies, Credit Firm uses attorneys to analyze your credit report, checking that each item is valid.
What many people don't realize is their poor FICO score is a result of incorrect items listed on their credit report.
And even if they did notice these items they'd have no idea how to go about having them removed or adjusted to reflect their true financial standing.
So with Credit Firm, there are no tricks or loopholes involved – just an attorney ensuring that each item on your report is FCRA compliant.
With the net result of an improved credit score for your visitors.
This credit repair affiliate program pays a flat $20 commission per sale or a roughly 40% commission rate on their standard $49.99 credit repair package.
You also get a 180-day cookie to work with, so you can work on your conversion rate.
The only downside to this affiliate program is its site – it looks like a cookie-cutter WordPress template from 2004.
URL: Credit Firm affiliate program
Commission: $20 per sale
Cookie duration: 180 days
TransUnion
Doesn't the name TransUnion sound like something to do with railways?
Well, that's not a coincidence because TransUnion actually started out as a railcar leasing company.
They then moved into the credit reporting industry in 1960, becoming the first company in North America to digitize customer credit records.
Since then they've expanded to offer their credit monitoring services to cover Canada, the United States, and 30 other countries.
TransUnion is one of the big three credit reporting companies, Equifax and Experian being the others.
Which means they have the tools and expertise to analyze where your credit score is now, and help you get it to where you want it to be.
So is this credit repair affiliate program worth your while?
Basically, "Yes".
You'll earn a flat CA$60 per sale, which is roughly US$40.
It wouldn't take long for those $60 affiliate commissions to add up to job replacement income though.
URL: TransUnion affiliate program
Commission: $60 per sale
Cookie duration: 45 days
CuraDebt Credit Repair
Resolving your outstanding debts can take many forms.
You can renegotiate your debts, consolidate your payments, or even work towards a debt settlement.
If you know how to do all of that yourself…but most people have no idea where to start with credit repair.
They're too busy panicking to think clearly.
That's why it can make more sense to simply ask CuraDebt to take care of the problem for you.
They've assisted at least 200,000 people in the last 20 years alone with legal and permanent solutions to their debt problems.
All free consultations are 100% no-obligation, so your visitors don't have to buy anything unless they really want to.
There are lots of opportunities to make pretty decent money with this credit repair affiliate program.
Firstly, you get $30 in commission for every warm lead you send their way.
But you can also earn up to $200 per sale if your lead converts to become a paying customer.
And then finally, you'll also earn a $5 bonus for anyone who signs up as an affiliate through your link.
URL: CuraDebt affiliate program
Commission: $30 per lead
Cookie duration: Never expires
Identity IQ
A really quick way to have your credit score ruined is to become a victim of identity theft.
Somebody else using your personal information to open several lines of credit – that they max out overnight – can leave your FICO score reeling.
Identity IQ is not, however, like traditional credit repair services.
Instead, they offer a combined credit reporting and scoring system that also offers comprehensive protection against identity theft.
This includes monitoring applications made in your name, data breaches, and data being sold on the Dark Web, for example.
It's always going to be far easier to stop your credit score from being destroyed in the first place than to repair it after the fact.
The Identity IQ affiliate program is operated under the Awin network, so you'll need an account with them to get started.
You'll earn $35 per lead, which is just above average for the "credit repair" niche.
This company has a roadmap for several upcoming products that tap into the credit score/repair market.
URL: Identity IQ affiliate program
Commission: $35 per lead
Cookie duration: 30 days
Over to You
There's an almost endless stream of credit repair companies you could promote.
The problem is that many of them are an unknown quantity – you're taking a risk by promoting their offers.
Like the risk of not being paid.
The credit repair affiliate programs we dug up for you are either all leading brand names or run their program through an affiliate network.
So there's little or no risk of your affiliate marketing efforts going unpaid.
And making money is exactly why you're interested in this stuff, right?
Well, let us show you how that all works in our free training.
Don't worry – there's no pushy sales crap.
Just two guys showing you how to make honest, ongoing money with an affiliate business.
Something you'd be proud to share with your mother.
All we need to know is what email address to send your invite to.
Cya there!