There's a lot to love about dog training affiliate programs.
Why? Because there are a whole lot of doggos out there.
In fact, almost 40% of American households own at least one dog, with the average dog owner having 1.6 dogs (I have no idea what 0.6 of a dog looks like, btw).
While they're all hecking good puppers in their own unique way, some need a little "support" to stop them shredding your new shoes and barking at the mailman.
That's where dog training products and services come in. From basic puppy training to more advanced, breed-specific content, there are any number of training classes out there that promise to transform your canine companion from "bad dog" to "who's a good boy?!".
As an affiliate marketer, it's a smart niche to be part of, because pet owners just love spending money on their furry friends.
In fact, the average American owner drops more than $1,200 a year on their pampered pooch, including $38 a year on training-related products:
Okay, so we've agreed: online dog training programs are a great opportunity. Now, let's take a look at the 10 best dog training affiliate programs:
10 Best Dog Training Affiliate Programs
Brain Training For Dogs Affiliate Program
The Online Dog Trainer Affiliate Program
Secrets to Dog Training Affiliate Program
Karen Pryor Clicker Training Affiliate Program
Dog Trainer Handbook Affiliate Program
SitStay Affiliate Program
Train Pet Dog Affiliate Program
Success Dogs Affiliate Program
Dog Training Depot Affiliate Program
The Crafty Pup Affiliate Program
Brain Training For Dogs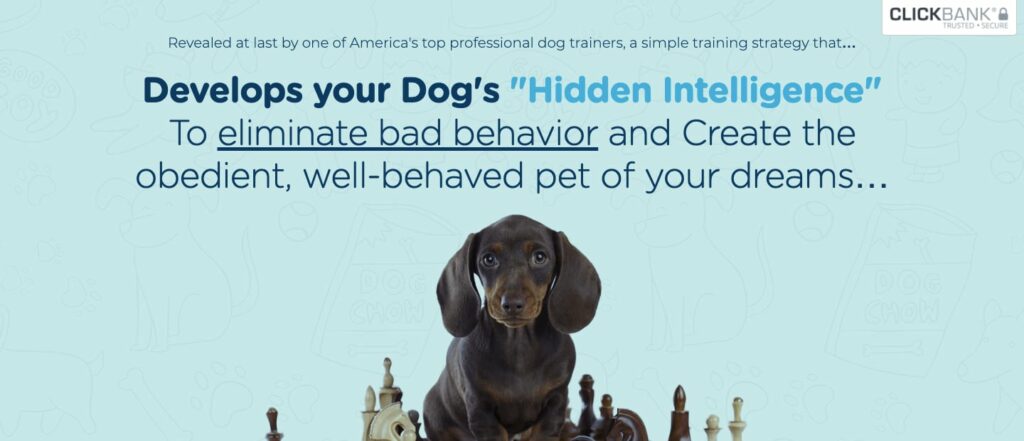 Now look: we all love dogs. That's a given. But you have to admit they're not always the smartest. So it's no surprise that among the myriad online courses for dogs, brain training is one of the most popular.
Developed by certified dog trainer Adrienne Farricelli, Brain Training for Dogs includes a wealth of training programs and resources, including dedicated puppy training, two courses designed to boost intelligence, obedience, and behavior, and more than 100 articles aimed at tackling common behavioral problems.
That gives you a lot of products and services to promote through the Brain Training for Dogs affiliate program.
And it's well worth promoting, because you'll get a generous 75% cut of every sale you refer.
To help monetize your traffic, you can access free giveaways, attractive banner ads, promo videos, and even keyword ideas.
The Online Dog Trainer
The Online Dog Trainer is the brainchild of Doggy Dan (not his real name), and it's consistently among the most popular dog training programs on ClickBank — the second-most-popular affiliate network, according to our affiliate marketing statistics.
In part, that popularity stems from the fact that so many pet owners have tried — and loved — his training resources.
More than 57,000 people have bought Doggy Dan's various online courses, which have a refund rate of just 3%. That's good news, because it means you get to keep hold of virtually all of your affiliate earnings.
Talking of earnings, The Online Dog Trainer pays a 70% commission for every sale you drive. As you'll see from the rest of this article, that's one of the highest rates in the whole pet industry.
Secrets to Dog Training
The Secrets to Dog Training is kind of like the Bible for dog owners, more than 220,000 of whom have used it to resolve their troublesome pooches' behavioral problems.
In over 250 pages, it lays out all the information needed to teach dogs vital skills, understand why they act in certain ways, and learn how to keep them happy and well-nourished.
To help you reach the right target audience and turn them into paying customers, The Secrets to Dog Training offers a free ebook that's totally rebrandable, so you can tailor it with your own color scheme, font preferences, and graphics.
You can access a ton of other useful assets too, like banners, images, text links, and a free trial signup form.
Karen Pryor Clicker Training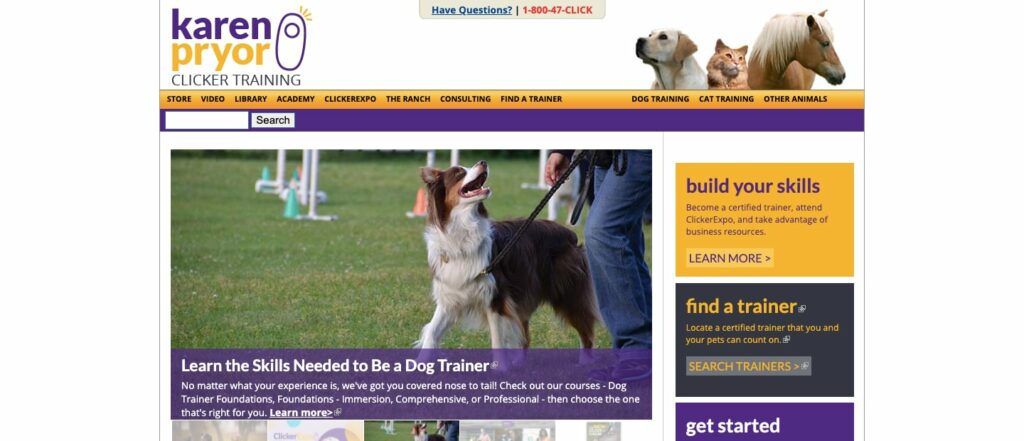 Founded in 2001, Karen Pryor Clicker Training – or KPCT for short – is a leader in the field of clicker training.
I know what you're thinking: "What the heck is clicker training?"
Well, it's a pet training system that relies on positive reinforcement, combined with what's known as an "event marker" – that is, a "thing" that denotes when a dog has done something good.
In this case, the event marker is a clicker. Whenever the trainer clicks it, the dog knows they've got it right!
KPCT sells a range of training gear, including treats, leads, and harnesses, as well as the obligatory clicker training products. Or you can sign up for an online course and become a certified dog trainer yourself.
Through the brand's affiliate program, you can earn an 8% commission – paid monthly into your PayPal account – on sales of any of those products and services.
Dog Trainer Handbook
This one's a little different, because it's aimed at aspiring professional dog trainers, rather than pet owners who want to train their own dog.
As the name suggests, the Dog Trainer Handbook is a manual designed to help people become certified dog trainers, fast.
It's packed with useful advice, such as three easy ways to get crucial training and experience without paying a cent. Although obviously you have to pay several cents to buy the book in the first place.
However, people clearly think it's worth the money, because the brand claims to convert one in every 17 visitors. That's a conversion rate of almost 6%, which is pretty strong.
And the good news doesn't stop there, because you'll also earn a healthy 70% commission on every sale you refer (that's $23.25 per sale in real terms).
Drive over 100 sales a month and you'll unlock even higher commissions as a super affiliate.
SitStay
SitStay is one of the growing numbers of online retailers specializing in pet products.
With a catalog of more than 1,000 high-quality dog products, most of which are made in the US, SitStay sells everything from gear for working dogs to treats and wellness supplements.
It does a decent job of selling them, too, with its latest figures (dating from 2016) revealing an average order value of $65 and a highest sale of $241.
The SitStay affiliate program pays a base commission of 8% on all sales, with a decent referral window of 90 days.
To help drive as many sales as possible, affiliates can unlock unique promotions and get support from a dedicated in-house affiliate program manager.
Train Pet Dog
"Train Pet Dog" sounds a lot like a demand from a caveman. But what it lacks in snappy branding, it makes up for with the quality of its dog and puppy training.
According to Train Pet Dog, it can help owners housebreak their four-legged friend in six days or less, while also helping them cut out bad habits like barking, jumping, and biting.
Now, let's get into their Training Pet Dog affiliate program, because there's a lot to break down here.
For starters, you'll earn a solid 50% commission on any of its training-themed pet products. With its Dog Lovers Training Course selling for $67, that equates to a $33.50 commission for every sale. Not bad!
But wait — there's more! Every customer receives a free 30-day trial to the Elite Dog Owner's Club, normally priced at $67 a month.
If they keep up their membership after the trial period, you earn a recurring commission of 25% for as long as they remain subscribed.
Not only that, but you'll also earn a 5% second-tier commission from sales generated by affiliates you refer. And for the final sweetener, the cookie window is a ridiculous 10 years (bear in mind, 30 days is the norm for most affiliate programs).
Success Dogs
With a focus on positive reinforcement and force-free methods, Success puppy training has helped more than 10,000 dog owners get their unruly canines into line.
All its courses cost a comparatively affordable $47 for multiple video lessons and come with a 100% money-back guarantee, which makes it easier for you to close the deal.
Every time you do close the deal, you'll earn a 50% commission through the Success puppy training affiliate program, paid via PayPal once the 30-day refund period has passed.
It includes a lifetime cookie duration, so there's no rush to convert the traffic you drive — you'll get paid whether they buy in a week, a month, or a year.
However, the affiliate program operates on a last-click basis, so if two affiliates refer a sale, Success Dogs' tracking tools will ensure that only the final referrer earns the commission.
Dog Training Depot
The Dog Training Depot claims to offer all the tools to train and look after a dog throughout its whole lifespan, covering everything from potty training to separation anxiety.
Once they sign up for the brand's flagship Canine Coach training course, new customers automatically qualify for a 30-day free trial.
Once that period has passed, you'll earn a 50% commission for every customer that sticks with the program.
As if that wasn't enough, you'll also earn a 10% cut from any Canine Coach sales made by affiliates you refer. That means there's plenty of scope to earn passive income here.
The Crafty Pup
Jimmy Cocallas — or Jimmy Cee for short – is the third generation in his family to become a dog trainer.
His training business offers online video courses covering everything from simple puppy training to obedience sessions for dogs aged 4.5 months or older, and he also offers more personal help through private lessons and board-and-train sessions.
Whichever pet products you choose to promote, you'll bag yourself commissions of 30% – 50%, which definitely isn't to be sniffed at.
To join, just fill out a simple form on Jimmy's website, telling him a little about your audience and the channels you're planning to use to promote his training program.
Conclusion: Are Dog Training Affiliate Programs Right for You?
If you're still with me, I'm going to assume you like the sound of the pet training niche. But is it really a good fit for you?
Well, if you and your audience love dogs, there aren't too many better verticals to target.
The commissions are healthy and, as we've already discussed, pet owners are more than happy to spend decent money on products and training courses that help their canine pals be their best selves.
The only thing you need to do is figure out how to build a high-quality affiliate website that generates a ton of qualified traffic.
Which is where we come in! Join our free training and we'll give you all the tools and tricks you need to launch an affiliate site in 2023.