Affiliate marketers have two basic choices for making money:
Sell a high volume of products that pay low commission
Sell a low volume of products, but that pay a very high commission
Most new affiliates are put off the idea of promoting luxury products because they think there's too much competition.
What they don't understand is that — generally speaking — roughly the same amount of effort is required to sell an item worth $50,000 as it does an item worth $500.
It comes down to getting the right type of traffic and how you frame your offer.
If you look at this from a long-term strategy perspective, it just makes way more sense to generate 10x as much money from the same volume of traffic.
This is an idea we explored when we recently built and sold a website in 18-months, and made six figures from it.
So let's take a look at some luxury affiliate programs that could help you to achieve much the same result we did.
After all, who doesn't want to see more $100 commissions showing up each day in their account?
Luxury Affiliate Programs
JR Dunn Jewellers Luxury Affiliate Program
Oberoi Hotels and Resorts Affiliate Program
Puffy Mattress Affiliate Program
Money Metals Affiliate Program
Saks Fifth Avenue Affiliate Program
Urbilis Luxury Affiliate Program
MSC Cruises Luxury Affiliate Program
L'Occitane En Provence Affiliate Program
Overnight Stay on the ISS Affiliate Program
Villiers Jets Luxury Affiliate Program
JR Dunn Jewellers
JR (James Robert) Dunn opened his first jewelry store in 1969 after quitting his job as a salesman for IBM.
This family business sells high-quality jewelry, Rolex watches, diamonds, gemstones, engagement rings, and other fine jewelry to customers from their showroom or via their online store.
And the JR Dunn online store is where you come in – the average order value is $1,078, and you get 3% of that as an affiliate.
That might not seem like much but it comes to $38 for the average sale value, but it would be $380 if your referred visitor bought a $10,000 Rolex.
Yes, there are lots of other jewelry affiliate programs out there, but JR Dunn is our pick of the bunch.
URL: J.R Dunn affiliate program
Commission rate: 3%
EPC: $139.50
Cookie duration: 15 days
Oberoi Hotels and Resorts Affiliate Program
The first Oberoi Hotel was opened by M.S. Oberoi in Shimla way back in 1934, introducing the idea of luxury hotels to the Indian sub-continent.
They have a very simple mission statement: The guest is everything.
And that ethos has helped them create a luxury hotel empire, with locations in India, Indonesia, UAE, Egypt, Mauritius, and Saudi Arabia.
But what does this mean for you as an affiliate?
Their average order value is $499.47, which results in $25 commission per referral.
All of this equals a program that is making consistent money for affiliates who make the effort to promote it.
Plus, once you plant the idea of how amazing a 10-day holiday in a luxury hotel can be, people's hopes and dreams take care of the rest.
URL: Oberoi Hotels affiliate program
Commission rate: 6%
EPC: $88.90
Cookie duration: 30 days
Puffy Mattress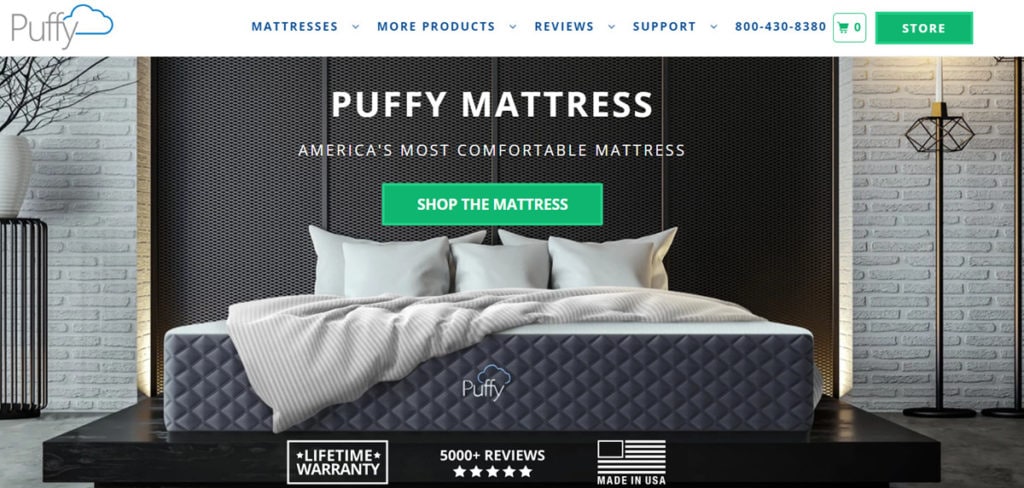 Puffy Mattress claims to be, "America's most comfortable mattress".But that claim is backed up by a lifetime warranty on their products and over 5,000 5-star customer reviews.
What makes them so popular is that they've invented a self-cooling memory foam mattress that also provides you with excellent support.
Like the cool side of the pillow, but for your entire body.
We knew we wanted to include a luxury mattress affiliate program in this roundup, and once we saw the average commissions paid out by Puffy Mattress we knew we'd found a winner: $300 per sale!
They also provide a 180-day cookie, giving you 6 whole months to convert your traffic into sales.
This program is well worth promoting if you're in a niche that's in any way related to it e.g. household decor, interior design, relocating, sleep problems, etc.
No other mattress affiliate program comes close to a $300 per sale payout.
URL: Puffy Mattress affiliate program
Commission rate: $300 per sale
EPC: $367.68
Cookie duration: 180 days
Money Metals
Yes, there are affiliate programs for sites selling gold and silver coins and bullion.
Why wouldn't there be?
Normally you'd expect this type of luxury product to only appeal to investors and people with a lot of disposable income.
But you'd be missing a trick because preppers now buy as much gold and silver as they can afford because in a dystopian future FIAT currency has no value.
That means you have multiple markets you can tap into.
Money Metals pay a flat $16 per sale, which is actually above average for this industry.
Their reasoning for doing this is the gold/silver industry is pretty cut-throat.
With that being said there are private affiliate programs that pay around $30 per sale, but there is an element of risk involved in working outside affiliate networks.
Plus, if you shift enough gold or silver for them you can always try negotiating a special commission rate for your efforts.
URL: Money Metals affiliate program
Commission rate: $16 per sale
EPC: $31.15
Cookie duration: 30 days
Saks Fifth Avenue
Saks Fifth Avenue is, and probably always will be, synonymous with designer clothing and accessories.
They've managed to survive two world wars, the Cold War, and at least three recessions, so they're not going anywhere anytime soon.
It's also worth remembering that the people who shop at Saks can afford to drop $50 – $100k on a spending spree without worrying about their bank balance.
That's why Saks sells products like Chloé handbags that retail at over $2,000, or Fendi shoes that cost upward of $1,000 per pair.
US affiliates can make 3% on those sales while UK affiliates can earn up to 5% of the total amount spent.
That means a $10,000 purchase is worth between $300 and $500 in commission to you.
And considering a single item of clothing from Saks can cost thousands, big payouts are entirely possible.
URL: Saks Fifth Avenue affiliate program
Commission rate: 3% – 6%
Cookie duration: 14 days
Urbilis
Although we'll never understand the impetus, we accept that many people love shopping for furniture and other household goodies.
They're also prepared to spend a ridiculous amount of money on indoor and outdoor furniture.
If you check out the Urbilis site you'll find planters (things you put plants in) that retail for over $1,000.
And people are likely to buy these in sets, or multiples.
Or their retro-styled seats that cost $800+ each, for example.
These are not the types of products you'll find in your local IKEA — and no, there's nothing wrong with IKEA furniture.
The average purchase made on their site is $707.99, and their 8% commission rate turns that into a $56 payout you.
Bear in mind that you could just as easily snag thousands in commission from a single sale, especially if somebody is furnishing their entire home.
There's a lot of scope here for anyone with an interior design or home decor blog/YouTube channel to make a lot of money.
URL: Urbilis affiliate program
Commission rate: 8%
EPC: $674.31 (not a typo)
Cookie duration: 45 days
MSC Cruises
If you're familiar with the luxury cruise industry you probably know that MSC is the largest privately-owned cruise company in the world.
And if not, then you do now.
The Aponte family has a long history of seafaring dating back to 1675, but MSC Cruises only set sail for the first time in 1988.
Cruises aren't all that difficult to actually sell because vacationers are pre-disposed to them. They've either been on a cruise before or are sick of listening to their friends rave about their last cruise.
Either way, it's front-of-mind for them.
MSC offers everything from short cruises for a few thousand dollars, all the way up to world cruises where prices start at $15,000.
Affiliates make a flat $100 commission per sale, which might seem unfair considering the overall "order" value, but $100 commissions aren't to be sneezed at.
The neat thing about this program is you can promote it to any audience that has ever been even remotely interested in taking a cruise.
URL: MSC Cruises affiliate program
Commission rate: $100
Cookie duration: 30 days
L'Occitane En Provence
L'Occitane en Provence is a French company that's been selling a range of beauty, skincare and fragrance products made from sustainable resources for almost 30 years.
The "sustainable sources" for their ingredients come from 130 French farmers, with the focus on being as environmentally friendly as possible.
Their products are not tested on animals and are also 100% free of palm oil.
So you have a range of luxury products aimed squarely at the environmentally friendly people of the world who also want to look and smell good.
And that marketing pitch has worked pretty well for them — they're at the top end of network performers on Commission Junction with a 3-month EPC of $33.
Affiliates promoting this program are generating a lot of income (even with a 2.5% commission rate) because healthcare and beauty products tend to be repeat purchases.
URL: L'Occitane en Provence affiliate program
Commission rate: 2.5%
EPC: $33.42
Cookie duration: 45 days
Overnight Stay on the ISS
Did you know that the International Space Station is scheduled to be decommissioned in 2024?
It's become too expensive for NASA to run on their own, so they're looking for ways to monetize the station.
Decommissioning typically means sending a space station plummeting into a remote patch of the ocean at several hundred miles per hour.
But in this case, the ISS is going to be used for both commercial and tourist space flight.
That's right, you'll be able to spend a night on the ISS for the low, low price of just $35,000.
You do also need to factor in the cost of the rocket trip to get you there and back again, which comes in at a cool $52 million with SpaceX.
This is speculative marketing here, but who knows what affiliate marketing opportunities will appear as both commercial and private space flight become the norm.
URL: NASA
Commission rate: 6-figures per lead
EPC: Astronomical
Cookie duration: 12 parsecs
Villiers Jets
Nothing spells luxury quite like a private jet, does it?
Well, not literally, but you get what we mean.
Villiers has access to over 9,000 different private jets across 40,000 locations.
All you have to do is search, book and fly.
You'll never again have to worry about queues, delays or the free-range child left running around the cabin as if it was some kind of stratospheric playground.
Villiers offers dedicated charter flights, but you can also book empty leg flights – this is where the person hiring the jet only required a one-way trip.
Affiliates get a very generous 30% commission, and you also have the opportunity to earn recurring commission for each customer you introduce.
Even a short charter flight can cost well in excess of $10,000, which equals a $3,000 commission for you.
And even better you get a 365-day cookie, so potential sales are tracked for up to a year.
URL: Villiers Jet affiliate program
Commission rate: 30%, recurring
Cookie duration: 365 days
Conclusion
These aren't the usual luxury affiliate programs you've found on other websites?
Good.
That's because we invested a lot of time in finding programs that are actually worth promoting from an income point of view.
As you can see luxury products span a pretty broad spectrum from hotels and resorts, to skincare, to hiring private jets.
The main thing to remember is that the vast majority of affiliates avoid promoting these offers because they think they're too "big".
Which leaves more opportunity for those willing to take the chance.
But if you want to learn how to promote big-ticket affiliate programs like a pro, then the first step in that process is investing the time in yourself to check out our free training session on how to build authority sites.
No strings, and no hard-sell tactics — just lots of practical information and advice.